Ace musician, Charles Oputa, a.k.a Charly Boy and the former Director New Media for the Peoples Democratic Party, PDP, Deji Adeyanju have condemned what they termed the poor response to the Benue flooding that saw over 100,000 people displaced, properties worth billions damaged and live killed.
Benue state had been hit by flood and many residents had complained the lack of aides from the federal government.
While the Vice President, Professor Yemi Osinbajo had visited the flood-stricken state just few days ago, the presence of the National Emergency Management Agency, NEMA, became somewhat felt in the state after President Muhammadu Buhari had ordered the immediate deployment of aid workers to the state.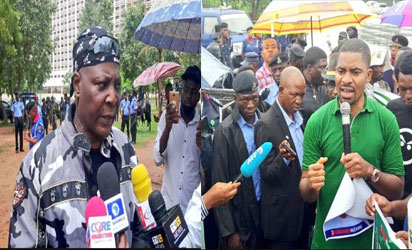 However, in a statement co-signed by Charly Boy and Adeyanju, the duo who had organised what many have come to describe as a successful sit-out protest that saw President Buhari return from his medical trip in London to resume his presidential duties, they alleged that the Federal Government deployed insufficient response to tackle the flood in Benue state hence, resulting to many deaths.
The statement also condemned NEMA for allegedly rejecting donations from philanthropic Nigerians to help the victims of the flood claiming they(NEMA) had closed for the Sallah break.
The duo however urged FG and NEMA to take more steps in salvaging the flood situation in Benue state.
"We are dismayed by the poor, insufficient and meagre response of the Federal Government and the National Emergency Management Agency (NEMA) to the flooding in Benue State which has resulted in the deaths of some people and the displacement of more than 100,000 people.
"In response to this crisis, the Federal Government and NEMA have deployed an insufficient amount of emergency staff and relief materials to ameliorate the pain and suffering of Nigerians affected by this disaster.
"Worse still, several reports indicate that NEMA officials rejected donations from philanthropic Nigerians on the grounds that they had closed for the Sallah break. During this period, several people were turned away from various Internally Displaced Peoples' (IDP) camps across the state on the grounds that registration had closed.
"This state of affairs is appalling and reveals the shocking insensitivity of the Federal Government and NEMA to the plight of Nigerians. As a result of the shockingly poor response, thousands of Nigerians are currently exposed to hunger and the outbreak of disease.
"We urge the Federal Government and NEMA take more urgent steps in this regard by sending more relief supplies and emergency workers to the affected areas. We also urge the Federal Government to put a stop to NEMA's insistence on turning some of the affected people away."