*Minister has never supported Buhari — El Rufai
*She should have resigned before making remarks — APC
*Atiku should behave like a statesman — APC
By Omeiza Ajayi & Johnbosco Agbakwuru
FINDINGS by Saturday Vanguard have revealed that the All Progressives Congress APC may not sanction the Minister of Women Affairs and Social Development, Hajia Aisha Alhassan for saying that she would support former Vice President Atiku Abubakar should President  Muhammadu Buhari decide to seek re-election in 2019.
While the Deputy National Chairman, South, of the party, Mr. Segun Oni had told reporters in Makurdi last Thursday that the party would discuss the issue, sources at the party's National Secretariat told Saturday Vanguard that the minister had not flouted any constitutional provision.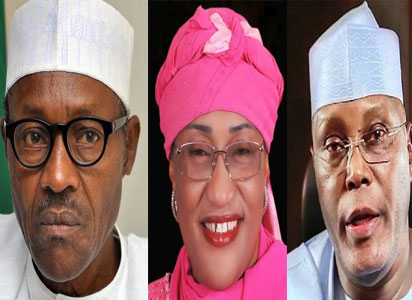 Efforts to get the newly-appointed North East Zonal Vice Chairman of the party, Mustapha Salihu to ascertain whether Alhassan's views represented that of the zone were futile.
Salihu neither picked his calls nor replied messages sent to his phone.
However, a top-level party source said: "The minister has not flouted any aspect of our constitution. Of course, everyone knows that she has always been in the Atiku camp.
"Whatever the party is doing is just a mere face-saving measure.  If they summon her, on what basis are they going to reprimand her? Those of us in the National Working Committee, NWC, also owe allegiances to various interests. And that is good because no single bloc or chieftain can exert authority on the NWC. Even when we meet on this issue, I can tell you that opinions might be divided."
Recommend appropriate sanctions
The source further said: ''The Minister said Mr. President promised to go for one term. It is not for the party to start countering that because some of us may not have been privy to that. The President's handlers are there to dispute the assertion and when they do that, the party can then summon the minister and ask why she 'lied' against the President and then recommend appropriate sanctions.
"Some people have the same thing in mind like the Minister but are afraid to say it. The last time the Minister came here (Secretariat), she said this administration has neglected Taraba people in terms of appointment. Almost on the same day she granted this recent interview, her godfather told the same news medium that the President had sidelined him since 2015 election. A lot of people are complaining of not being rewarded. These are legitimate concerns and you do not go about punishing people for such.
Right of first refusal
"Aside from the fact that Buhari even has the right of first refusal, APC as a party that promised change would want to avoid the costly Jonathan/PDP mistake of printing only one form and shutting out other aspirants.
"Furthermore, Aisha has not really involved herself in any anti-party activity because the person she is rooting for is a high-profile member of this same party. So, why would the party reprimand her for that? The situation would have been different if Mr. President had given an indication that he would contest or has  anointed  candidate.
"The major point that should be noted is that Aisha is Buhari's appointee, not the party's appointee. She was not even our nominee because, as you are aware, we did not have the privilege of nominating ministers. Only the President has the right to nominate those he feels are capable. So, the Presidency can sanction her if necessary. The party had less input in Buhari's choice of ministers."
Atiku exaggerated contributions to party
However, the party's National Vice Chairman, North West, Inuwa Abdulkadir told newsmen yesterday that Atiku had exaggerated his contributions to APC
He also chided Sentor Alhassan for pledging allegiance to Atiku.
He said: ''Atiku has been making some statements that create an impression of failure in the party and the Buhari-led government. At that level, good party members of his status should not be seen making public statements even if the criticisms are factual.
"Atiku like many others made certain contributions in the 2015 elections and in building the party but the bigger picture which he gave is not correct. The Northwest zone which I represent had eight presidential campaign rallies which Atiku did not attend.
"He added value but there are so many other members of the party, who made financial contributions and added electoral value. Northwest is the most populous zone with many members. The zone made many contributions to the President's electoral victory. We have seven state governors and 20 out of the 21 senators in the zone are from the APC.
Unfortunate statements
"We shouldn't be distracted by such unfortunate statements that the party is neglecting a particular person or group of persons. Some things involved processes and people should not expect everything to happen at a time. More importantly, there should be some decorum in what we do. People, who have attained privileged positions, should know that they cannot afford to be talking any how.
"On the issue of consultation, it is an open secret that whoever visits the President is never kept as a secret.  Whoever is meeting the President of Nigeria, more than 20 people will know about it and the information will be shared. As a matter of fact,  Atiku Abubakar has visited Mr. President several times and we didn't know what they discussed. I am sure he was not just there to greet him.''
Aisha Alhassan should resign first
On the Minister's statement, he said: "How can she be making such suggestions in respect of her principal in public? This is something that she can discuss with her principal so that he will know her position.
"Whether Buhari has said he will contest or not is immaterial. What matters is that a serving minister should not be seen to be making public statements that suggest that she is not on the same page with the team she belongs to.  In other places, the right thing is for her to resign, if  she can no longer continue to belong to the team.  You cannot eat your cake and have it. As high as that office is, people resign and leave on principle."
Similarly, Kaduna State governor,  Nasir El-Rufai said the minister had never supported Buhari's ideologies.
El-Rufai, who stated this in a chat with State House Correspondents after he visited President Buhari yesterday, said he would support the President for a second tenure if he decides to contest in 2019.
What Buhari stands for
The governor said that many of the followers of the President opposed the nomination of  Alhassan, adding that the President ignored the opposition to appoint her a minister.
He said:"Many in Buhari's camp did not support it but he overruled everybody because that is how he is, he tries to be inclusive, he considers every Nigerian his own son or daughter and he nominated her to be a minister.
"Her comments are not surprising. She has never been a supporter. She has never believed in Buhari ideology. So, I am not surprised and as a Nigerian and as an individual she has every right to express her views and support whoever she wants.
"What I am saying is that Nigerians should not be surprised or shocked. This has always been her position because she has never supported Buharism or what Buhari stands for.
"Being part of Buhari government is a different thing because the government sets policies and if you are a minister you will execute the policies. You can execute those policies while pursuing a different brand of politics. And it is okay there is no problem with that."
Nigerians should not be surprised—El-Rufai
On whether Alhassan should be retained, El-Rufai said: "It is the President's prerogative. You can retain a person in the cabinet even if he doesn't support you but adds value to the country.
"If Jummai Alhassan is performing as Minister of Women Affairs and adding value to the government and the people of Nigeria, it is the President's prerogative to retain her in spite of her political views.
"But if she is not adding value in spite of her political views she can be dispensed with, that is the President's decision. I don't think people should get worried about it. I have worked closely with the President, I know him and I know how he thinks. He doesn't take these things personally.
"What is primary to him is Nigeria's progress and how well the government is doing and what everyone is contributing."