Brazil's President Michel Temer has called on world leaders to shun extreme nationalism and embrace diplomacy.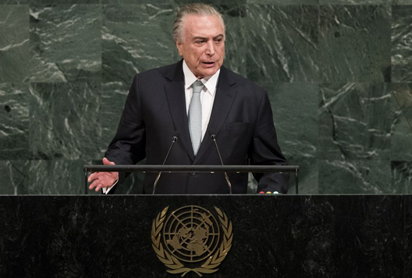 "We reject exacerbated forms of nationalism, we do not believe in protectionism as a way out or solution to economic difficulties,'' Temer said in his speech at the General Assembly .
"At this time in history, marked by so much uncertainty and stability, we need more diplomacy and more negotiating not less. More multilateralism and dialogue not less,'' he said.
Temer, who took office one year ago after his predecessor Dilma Rousseff, was impeached amid congressional pressure and street protests, touted his country's "truly universalist foreign policy,'' pointing to cooperation with countries in Brazil's "immediate neighbourhood.''
"Brazil is overcoming an economic crisis, restoring credibility and creating jobs once again, " he said.
Brazil has received thousands of migrants from Venezuela who are fleeing a deteriorating humanitarian situation, and there is "no more room for alternatives to democracy,'' Temer said.
"We have learned a lesson and are applying in practice the rule that fiscal responsibility without social responsibility is empty rhetoric,'' he added.