By Luminous Jannamike
ABUJA – A chieftain of the All Progressives' Congress (APC) from the Southeast, Ejike Njeze, yesterday said the vow made public by the Indigenous People of Biafra (IPOB) to ensure that the forthcoming governorship election in Anambra state is halted unless the federal government grants its desire for a referendum is unrealistic and doomed to fail.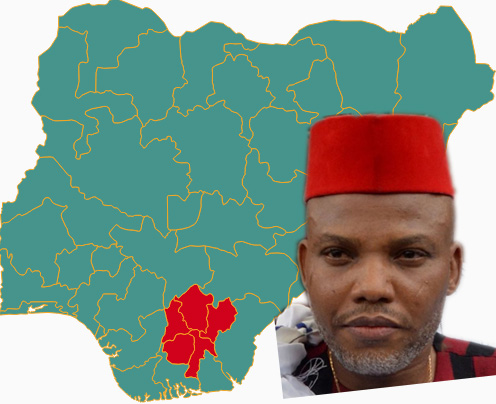 The IPOB leader, Nnamdi Kanu, had consistently said the pro-Biafra group will teach the federal government a bitter lesson and set a negative precedence ahead of 2019 through the boycott of the November 18, gubernatorial election in Anambra unless Biafra referendum is conducted..
Similarly, a Commander of the newly inaugurated Biafra Secret Service (BSS), Ezekwesiri Kenneth, also boasted that the governorship poll in Anambra state will only hold "over their dead bodies"
However, in his reaction, the Chief Njeze said the misleading call for the boycott of Anambra governorship election by IPOB is synonymous to the death of the group as the government will do all within its means to ensure that the election is held in a peaceful and rancour-free atmosphere.
According to him, the tone of the threats coming from IPOB over the Anambra election indicates that the group has made plans to use violence to try to stop the lawful election.
He however urged IPOB to rescind its decision; warning that an attempt to halt the election in any form will be resisted by security agencies who will not sit-down and watch any group set Anambra state ablaze.
"There is no reality behind laying a claim that an individual or IPOB could halt the governorship election in Anambra state. Any attempt to stop a lawful process like an election is chasing a wild goose. It is equivalent to a young child looking at the moon and thinking that he could pluck the moon simply because he could see it.
"For me, it is clear that IPOB will attempt to use violence to try to stop a lawful process but the law-enforcement agencies will not sit-down and watch any individual or group set Anambra state ablaze. Rather than one man set the whole state ablaze, the state will set the man ablaze," the APC chieftain told Vanguard
He added that, "no well-meaning and responsible Anambra person will support that call for the halting of the progress of the state through the boycott of a governorship election. Honestly, I don't see the place of election boycott in the Biafra agitation.
"What Nigerians should expect is the election results because the conduct of the governorship poll is non-contestable. IPOB lacks the locus standi to halt a constitutional election of the Federal Republic of Nigeria.
"IPOB has given the options to the government that it is between their dead bodies and the conduct of the elections and the most realistic between the two alternatives is the latter. So, I urge them to have a rethink on the call to boycott Anambra gvernorship election because it is doomed to woefully fail and also bring forth unpleasant consequences among those residing in Southeast."