Ijebu-Ode (Ogun) – Mrs Abibat Ayanlola, 32, who was delivered of a baby girl during Ojude-Oba Festival on Sunday in Ijebu-Ode, Ogun has received a cash gift of N100,000 from Gov. Ibikunle Amosun.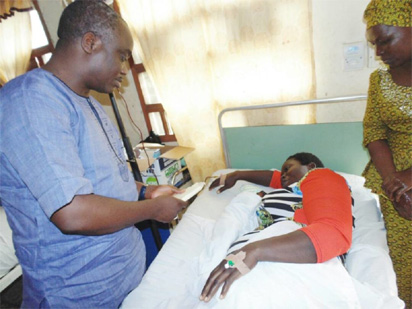 A visibly elated Ayanlola, on Monday received the donation from the state Commissioner for Health, Dr Babatunde Ipaye, who visited her at the State General Hospital, Ijebu-Ode.
She thanked the governor for the gesture and all those who assisted her and the baby during the episode which she claimed caught her unawares.
In a chat with the News Agency of Nigeria (NAN) after receiving the gift, Ayanlola narrated how medics came to her aid when they heard her distress call.
NAN reports that Ojude-Oba is an annual festival celebrated in Ijebu-Ode, the third day after Eid-el-Kabir.
Ayanlola told NAN that though, she hails from the Awori clan in Ogun, she regularly attended the annual celebration of the Ojude-Oba with keen interest.
Narrating her ordeal further, Ayanlola said that she never expected she would suddenly go into labour having been told by her caregivers that the expected delivery date was Sept. 12.
According to her, what more can I say. God spared my life and my baby's, now the governor came to my aid with a cash gift of N100, 000.
"I am a caterer by trade, while my husband, Lukman is a transporter, but personally, I travel down every year from where I reside to partake in the Ojude-Oba Festival which thrills me.
"I went to urinate having been pressed while partaking in the event. As I came back, I started feeling uneasy and decided to relax a bit on the stairs of the pavilion.
"Before I realised what was happening, I couldn't stand on my feet again and then went into labour before eventually birthing at the spot.
"It was the quick intervention of the emergency medical team that saved my life and that of my baby.
"I normally attend my antenatal clinic, which is programmed for Thursdays and was told my date for expected delivery was Sept. 12.
"I thank God for living through this episode and also thank Ogun Governor, Ibikunle Amosun, for his benevolence through the financial support," she said.
Ayanlola says the baby is her fourth child having had three children, all males.
In his remarks, Ipaye advised pregnant women to take necessary steps in ensuring that they remained healthy by conforming to their doctors' advice, particularly after 35 weeks of the pregnancy.
The commissioner urged them to minimise travelling, saying that it posed a great risk to their safety and the development of the baby.
"She took a great risk, but was lucky that the emergency team prepared well for such eventuality.
"Usually, when we have large gatherings like this in Ogun, it is customary for us to always have an emergency medical team on standby.
"The baby was delivered with the umbilical cord round her neck which created some complications in her birth as we have to eliminate the risks.
"If that level of care was not given, the baby might not have survived and the possibility of losing the mother too was high, because she lost a lot of blood in the process.
"She was delivered of the baby on the floor which was not the best place for such activity; so she was immediately rushed to the hospital for proper care afterwards.
"I advise pregnant women that when they are close to their delivery time, they should not to be too far away from their caregivers or their family members," he said. (NAN)