By Ibeneme Chika
Since inception, the current administration in Anambra State has been the target of conspiracies and  attacks orchestrated by political contractors, accidental media practitioners and their patrons, all geared at diminishing the giant strides of Governor Willie Obiano in various sectors of the state. Fortunately it appears that the more the traducers try, the more recognition and plaudits Akpokuodike and his government garner for his good works.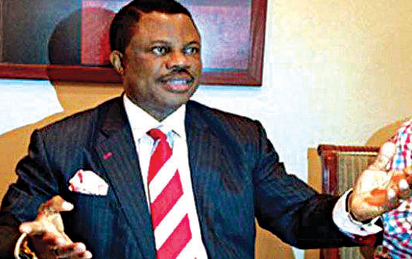 In all fairness, the immediate past administration laid the foundation for new Anambra while the Obiano administration in keeping with his promise is consolidating the foundation to a super-structure. This is why the Continuity Project was adopted and is being accelerated amid dwindling resources. Many projects including the roads flagged off by his predecessor have been completed and commissioned. For instance, the Agulu Lake bridge, road and street lights were completed just like the Onitsha Shopping Mall project which houses the Shoprite was supported, completed, commissioned and put in use for the benefit of Ndi Anambra.
Many roads constructed over eight years by the previous administration which were affected by floods as a result of torrential rains are maintained by the Anambra State Road Maintenance Agency powered by 150 hardworking youths deployed across the three senatorial districts. In some cases, roads have attracted complete resurfacing to sustain the state's rating of having the best road networks, of which almost 50% are now adorned with modern street lighting with more under construction.
The Awka Capital Territory is now wearing a new look befitting its status following Obiano's facelift of the city after 25 years of becoming a state capital. To stem the rate of major accidents involving haulage trucks at Agu Awka, and in furtherance of the agreement with the Federal Government, the Obiano government is reconstructing the Onitsha-Enugu expressway from Juhel junction to Amansea. Meanwhile, the Federal Government is yet to refund the outstanding N43 billion expended by the state on federal projects in the state. Hopefully the defraying of the expense will enable the administration to do more.
In agriculture, the Obiano administration has done so well that laurels and accolades come in almost on monthly basis. Anambra is now the largest producer of yams and  the first state in Nigeria to export farm produce to Europe in commercial quantity. To sustain the export drive and increase food production, the state government provides financial leverage to farmers and cooperative societies through Anambra Small Business Agency (ASBA). Over 70,000 farmers have benefited from the single digit loan scheme from ASBA ably managed by Chief Omenife Clems Chukwuka.
It is no longer news that the state now enjoys home-grown best and fast selling rice brand in Africa known as "ANAMBRA RICE". Anambra Rice Mills Limited, located in Amichi, is one of the largest rice mills in Nigeria with the daily capacity of 440 tons of rice (approximately 10,000 bags of 50kg rice). This was made possible through the effort of Obiano, whose agricultural policy promotes private sector-led growth. It may be trite repeating that in the past three years, all the civil servants and pensioners in Anambra get rice gift courtesy of Akpokuodike, the "Most Passionate Governor in Nigeria", every December for Christmas.
In the area of security, Obiano scored "SUMA CUM LAUDO" in restoring the glory back to Israel. The people of Anambra no longer give out their daughters in marriages in Lagos, Abuja and Port Harcourt. Ndi Anambra no longer takes traditional titles in Lagos. Ndi Anambra no longer goes for annual thanksgivings in Abuja. The enthusiasm and the love for fresh village cuisine and delicacies are back- Ofe utazi, onugbu and uziza are now back on the menu as our grandmothers once more enjoy them with their grandchildren every weekend. Our extended family ties and bonds of love are strengthened through increased visitations. The fear of high profile crimes like bank robberies, high-way robberies, kidnappings and other clandestine criminal activities is a thing of the past in Anambra. Akpokuodike enyego ndi ekweganakwe na ndi ochonganaoko oso. Akpokuodike has made Anambra the safest state in Nigeria.
Human capital management has also got a boost under Akpokuodike. It is only in Anambra that you hear "BUSH ALLOWANCE" for civil servants. I discovered it just yesterday. Backlog of gratuities and pensions have been cleared. Recently, the retirees of Anambra Broadcasting Service (ABS) and Anambra Newspapers Corporation, who were owed gratuities, pensions and other statutory allowances since 1979, had cause to smile as Obiano commenced the payment of the emoluments. Capacity building which hitherto was considered a luxury has become a continuous exercise with local and overseas training especially for teachers to enhance productivity as well as motivate civil servants for optimum performance.
The achievements in the health and education sectors also speak volumes. Recently, Lorreto Special Science School, Adazi went to represent Nigeria at the World Schools Debate taking place in Indonesia and is already excelling against opponents. This was made possible by the unfettered support to education and hard work of our own humble Prof Kate Omenugha (Ezigbo Mmadu). It is also on record that the administration of Obiano ensured that the medical school of Chukwuemeka Odumegwu Ojukwu University Teaching Hospital graduated its first set of medical students after ten years. The governor gave automatic employment to the graduands and has been working tirelessly to make the teaching hospital to be self-reliant/sufficient. Ndi Anambra had never had it so good.
All told, it is generally acknowledged that Anambra is in good hands and everything should be done to support Obiano to sustain the momentum of development in the years ahead. Although political jobbers are already aligning to drag Anambra back to the dark days of sufferings and deprivation, Ndi Anambra and all men and women of goodwill should not relent in their prayers and vigilance.
* Chika is resident inAmichi