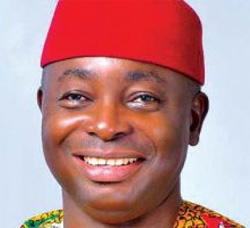 Akunwata Ejoh Ojiba
GOVERNORSHIP candidate of the Allied Congress Party of Nigeria, ACPN, Akunwata Ojiba has called on the Federal Government to withdraw the troops deployed to the South-East geopolitical zone.
Ojiba, who issued a statement in Awka, Tuesday, urged the Federal Government to embrace dialogue as the best option for conflict resolution.
His words: "These are sad times for the Igbo man who is now confronted with a major leadership challenge. What is the reason for this military deployment when IPOB is not using violence to pursue its aims? Why are the leaders in South Eastern states watching this violation of our democratic freedom with sealed lips? President Muhammadu Buhari should address the root cause of the agitation of IPOB rather than embarking on operation Egwu Eke II.''
"We are expecting more petitions and complaints against the candidacy of Dr Nwoye, they will come in all known and unknown forms, but we urge the APC to maintain their stand on his candidacy because the party conducted the best primary election ever in Nigeria and Dr. Nwoye won clearly and convincingly," he said.
He said that with the petition now discarded that the youths in the area would now up their campaigns to show other elements of the population why they should vote Nwoye as governor.