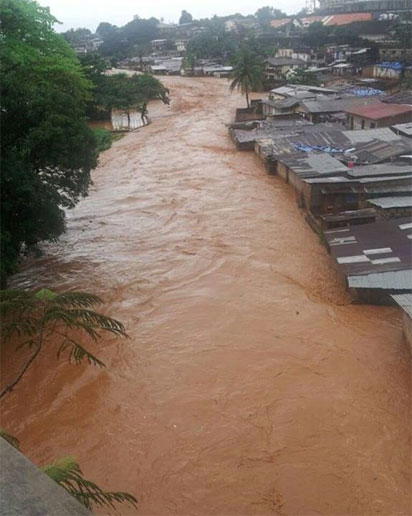 Flood and mudslide bury over 300 in Sierra-Leone
By Rosemary Onuoha
WITH the recent flooding in some parts of the country, coupled with increased awareness by insurance consumers in Nigeria, insurance claims have grown by over N5.9 billion in the first half of 2017, H1'17.
Reported claims in the financial statements of 22 major leading insurance companies for the period ended 30th June 2017 shows claims expenses to be at over N40 billion against N34.1 billion recorded in the corresponding period of 2016.
Though claims payment points to improved customer service and responsible underwriting, there are indications that the insurers are not earning enough to match the growing claims liabilities.
The rising claims was coming against sluggish growth in premium income as Gross Premium written recorded marginal increase at N118.55billion against N109 billion recorded in 2016.
This means that while claims expenses rose by a significant 17.3 percent, premium income was growing at less momentum of 8.76 percent.
However in reaction to the rising rate of claims which insurers have had to settle thus far, a lot of operators are gearing up to increase premium rates especially for fire and special perils which cover risks such as flood, for flood prone territories, during renewals.
Financial Vanguard findings show that underwriters could jerk up premium rates for flood insurance by up to 50 per cent, in response to increased flooding incidences across the country.
How the insurers are affected
A breakdown of companies' financials in H1'17 show that while Linkage Assurance Plc's gross premium written during the period grew marginally by 5.2 percent to N2.7 billion (from N2.6 billion) claims expenses rose massively by a whopping 232 percent to N559.8 million (from N168.2 million).
For Niger Insurance though gross premium grew massively by 136 percent to N3.9 billion (from N1.2 billion), a rise in claims expenses at 229 percent still outpaced it.
Consolidated Hallmark Insurance recorded N3.3 billion as gross premium written, a meager 3.0 percent growth from N3.4 billion, claims expenses towered up by 151 percent to N1.9 billion from N768.1 million.
Regency Assurance with gross premium written of N3.1billion, up 33 percent from N2.4 billion, but it carried claims expenses upshot of 90 percent to N695.4 million.
Nem Insurance with a huge portfolio of gross premium written at N8.1billion up by 37 percent from N5.9billion carried small sized claims expenses of N365.6million which, however, was growing faster at 77 percent.
Prestige Assurance with gross premium written of N2.2billion, a 50 percent growth against N1.5billion in 2016 recorded a 75 percent growth in claims expenses at N176.0 million against N100.5 million in 2016.
Mutual Benefits Assurance also with a huge portfolio of gross premium written at N7.6billion, up 20 percent from N6.4billion, but with equally huge claims expenses at N2.4billion growing far faster at 63 percent from N1.5billion.
Staco Insurance with gross premium written of N3.5billion, up just 14 percent from N3.0 billion, while claims expenses was massive at N1.4 billion growing hugely by 54 percent from N901.5 million.
Very worrisome was the shape of African Alliance Insurance whose gross premium written nose-dived massively by 67 percent at N3.2billion (from N9.9billion) while claims expenses rose significantly by 21 percent to N4.1billion from N3.4billion.
Another adverse report was the case of Cornerstone Insurance where gross premium written declined by five percent at N5.6 billion (from N5.9 billion) but claims expenses rose significantly by 31 percent to a massive N2.3 billion (from N1.7 billion).
Aiico Insurance, also in similar shape, while maintaining its massive gross premium written at N14.8billion but it declined four percent from N15.6 billion, just as its equally massive claims expenses at N8.9billion, represented a significant 26 percent rise from N7.04 billion.
Insurers with better claims to income ratio
However, Sovereign Trust appears to be in different shape recording a huge 63 percent growth in gross premium written at N6.1billion (from N3.744 billion) while claims expenses at N756.4 million declined massively by 30 percent from N580.5 million.
Other companies that presented different pictures from the adverse trend include Equity Assurance with gross premium written of N1.97 billion, a decline of 31 per cent from N2.9 billion while claims expenses was N459.7million, showing a 42 percent decline from N793.3million.
For Wapic Insurance gross premium written was N5.9billion, up 31 percent from N4.9billion while claims expenses at N1.6billion, rose 20 percent from N1.3billion. Law Union and Rock gross premium written was N2.8billion, up 16 percent from N2.371 billion while claims expenses was N332.8 million, a decline of 26 percent from N449.7 million.
Guinea Insurance gross premium written was N604 million, up 14 percent from N528.6 million while claims expenses was N40.9 million, a 26 percent decline from N55.7 million.
Standard Alliance gross premium written was N3.1billion, up 17 percent from N2.7billion, while claims expenses was N888.5 million, a decline of 16 percent from N1.1billion.
Great Nigeria Insurance gross premium written stood at N2.01billion, up massively by 93 percent from N1.04billion, while claims expenses was N487.3million, down 13 percent from N564.9million.
Custodian & Allied Insurance maintained its huge portfolio of gross premium written at N16.3 billion, while claims expenses, though equally huge, showed a 12 percent decline to N5.1billion from N5.8billion.
UnityKapital Assurance had gross premium written of N1.7 billion, up by 28 percent from N1.3billion while claims expenses was N198.7 million, a 12 percent drop from N226.9 million.
Lasaco Assurance had gross premium written of N4.8billion, up 18 percent from N4.01billion, while claims expenses was N1.3billion, a 1.5 percent drop from N1.3billion.
Continental Reinsurance  catapulted its gross premium written by 15 percent to a massive figure of N15.2 billion  from N11.9 billion , while claims expenses was down by six percent to N5.1billion from N5.4billion.
Operators' reaction
Against the backdrop of the growing adverse ratio of claims to premium many insurers are looking at increasing premium especially on special risks while deploying more energy towards growing premium income.
Managing Director of Law Union and Rock, Mr. Jide Orimolade said, "We are conversant with the recent floods in some parts of the country. So in terms of flood and fire insurance, the rate we can give to somebody at Magodo (Lagos suburb) for fire and special perils is not the same rate for someone in  Victoria Island, Lagos. For flood risk, we are very dynamic in terms of the rate we offer."
Orimolade said that his company is targeting a 50 per cent increase in premium by year end.
Chairman of Nigerian Insurers Association, Mr. Eddie Efekoha said that with the level of claims paid out to insured victims of the flood, especially in the Lekki area, premium rate for that area will definitely edge higher during renewals.
"Having paid so much as claims for Lekki flood, it will not make business sense to charge the same rate during renewals," he said.
Efekoha said that flood insurance being an extension of fire cover, most insurance companies before now offer the cover for free, especially in areas not prone to flood.
Meanwhile despite the huge claims paid so far, some operators are still optimistic that the rest of the year will be better.
Orimolade said, "Our target is to attain 50 percent growth in premium income this year. Though we are presently at 17 percent compared to last year, we are putting lots of strategies in place to be able to attain the 50 percent growth. We have told the stakeholders that we are looking at 50 percent, so for us it is a challenge. However, we set a target for ourselves and it is not the board that set it for us. We believe that we will be able to meet up with the target at the end of the year.
Managing Director of FBN Insurance, Mr. Val Ojumah said, "From our perspective, we have had an excellent result from our first half result.  We expect better performance for the second half of the year. The economy is not good but it is getting better. Overall, we expect that by end of 2017, there will be growth in gross premium income. I do not think that there will be a depression in that area."
The optimism is strong on the heels of the announcement that the country is out of recession as the economic recession adversely affected the insurance sector, with insurers grappling with lack of foreign exchange to reinsure businesses abroad and the lack of funds by businesses to buy insurance cover for their assets.
Also due to scarcity of funds, some corporate organisations preferred short term cover during renewal periods.
According to the Managing Director, Risk Analyst Insurance Brokers, Mrs. Funmi Babington-Ashaye, lack of liquidity during the period discouraged people from taking insurance covers . Other negative developments which impacted on the industry included the decline in government revenue as a result of continued fall in oil price, a development which effectively returned the governments to its former position as the highest debtor to the insurance industry.