By Chris Onuoha
Fashion industry in the country is taking a positive dimension. This is not to say that it has not been doing well before, but with series of exhibitions and fashion fairs, especially with the just concluded African Fashion week (AFWL) that took place in Lagos and London in 2017 summer, it is obvious that there is a paradigm shift on economic focus in other industries besides oil.
Ronke Ademiluyi is the brain behind the African Fashion Week, London and Lagos. she is also the Yoruba Cultural Ambassador, Queen Moremi Ajasoro's legacy. While confiding with Woman's Own on the successful outings of the two shows, she reveals that fashion industry is an untapped potential that can dust the focus on oil if harnessed properly.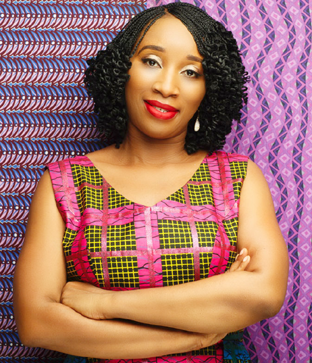 THE idea behind the AFWL exhibition
The idea behind it perhaps, for me and my team is to showcase the beauty of made in Nigeria, made in Africa, our fabric, our fashion, our design. It is also to show how vibrant our fabrics are and to showcase to a global audience our rich culture, creating more awareness and exposure for our indigenous designers for sustainability in the industry as well.
What is the future of the fashion industry in Nigeria?
The fashion industry in Nigeria and Africa in general is growing. It is quite new at the moment especially the African fashion industry. However, as quite new as it is, it's been currently valued at $31 billion by Euro monitor.  And this is the fashion industry that is fragmented. So, you can now imagine if we pull all the fragments together and have a hub, like departmental stores and outlets that are showcasing and selling African brands. I am sure before you know it; it would reach up to a $100 billion in no less time. African fashion industry is a fast growing business. The potentials are there. All it needs is sustainability and for the young designers to tap into the available resources that will grow the industry.
Are African fabrics appreciated globally?
I think we are getting there. It is not a one day thing. I grew up in London, and during my younger days, whenever my mum or any of my aunties came around in those local fabrics, we usually look down on them as if they are wearing some sort of rubbish, but now, things are changing. Everyone abroad wants to be associated with African fabrics and designs. A lot of international celebrities are patronizing African fabrics: Rihanna, Beyoncé, Serena Williams among others have all worn African Ankara fabrics in some of their outings.
Beauty of African fabrics
It is like the whole world is dying to be associated with what is coming out from Africa, the beauty of African fabrics.
The AFWL exhibition done in two cities is a huge investment though. Was it really an individual effort or did you get government funding?
Yes, it is a huge investment and we are not alone. We get funding from both the government and private sector as well. We have always had the Nigerian Export Promotion Council (NEPC) supporting the designers to showcase in London, and this year we had the Director General of the Nigerian Tourism Development Board, (NTDB), Mr. Folly Coker, who supported about seven designers to showcase their works in this last outing to promote the 'Tour Nigeria Brand.'
Despite the financial back-ups from government, are there some challenges?
Yes, there are. For me, what is the most challenging is  team to work with. Putting a team together is a big task. It is very important because no matter how much you have, getting a formidable team that will adequately push the whole idea through audition is very difficult. I mean designers, models and an entire crew that will fit into the show and doing it the way you want it done is a major challenge. But of course, as an expert, I always get through.
In comparison, what is the reaction or acceptance like in London and Lagos shows?
For the diaspora audience, it is awesome, because the London Fashion Week covers most of the countries in Africa, with different designers coming in from different countries. We had designers from Ghana, Kenya, Zimbabwe, Zambia, Botswana, Senegal and so on. So, for me, it gives us the chance to showcase African fashion from different countries.
Showcasing Africa to the world
You know the various countries in Africa have different textiles, textures, fabrics and their own unique design as well. So bringing everything together in London Africa Fashion Week is very amazing, showcasing Africa to the world in a very unique way.
Then, the Lagos exhibition is more of promoting the local content of what we have in Nigeria, the different textiles and fabrics. In Nigeria, we have the Aso-Oke, Adire, Akwete and other fabrics, but different states have their own style weaved to represent where it is coming from. You can easily pick a fabric and design from the Northern part of the country and the ones from the southern and other parts of Nigeria. In Nigeria, we bring different designs from these areas including the weavers, the designers together, showcasing it to the admiration of both local and international consumers.
Do you see fashion industry as the new oil, based on the fact that the price of crude drops incessantly?
Yes, I see it as an alternative to oil, that is if it is harnessed properly. If the private sector and the government are very much supportive, it is a fast growing industry and it is an industry that will help tackle youth unemployment and empowerment as well. Because a lot of the designers under the African Fashion Week platform, are young Nigerian graduates who studied other professions like doctors, lawyers, bankers, engineers and architect as well. But they have now all gone into fashion because of lack of employment in the field they graduated in. For me, if the government can put effort and show more interest in it, and as well create incentives for the designers with all the support, definitely it is an industry one can look at and say it can take over the oil sector of the economy.
What are the gains of this exhibition?
The gains are basically an avenue to portraying our heritage to the world. That is the greatest achievement. Let the world see Africa, Nigeria in a different perspective. In the UK, US and Europe, all we hear every day are the negative stories about poverty and crime coming from Africa. But showing the world what African fashion is all about, what our designers are capable of doing – it changes the narrative. Lots of designers especially in Nigeria pass through challenges to create their designs, such as inadequate electricity supply, and some who cannot afford generator use the lantern to make their dresses, yet still come out with amazing designs. For me, it gives me satisfaction when I see the smiles on the designer's faces for the effort on putting all their collections together.