By Emma Ujah, Abuja Bureau Chief
The electric vehicle revolution is a reality. Several countries including the UK, Germany, France and India have announced that combustible engine cars would be phased out between 2030 and 2040.   It is sending shivers down the spines of oil Sheiks and oil-dependent nations across the globe. In a chat with the media in Abuja, the Chairman of Nigus, Prince Malik Ado Ibrahim, famous for his role in F1 design, says his company, Nigus, in collaboration with BYD of China, would import electric vehicles into Nigeria as from 2018 and start their assembly in the country by 2020.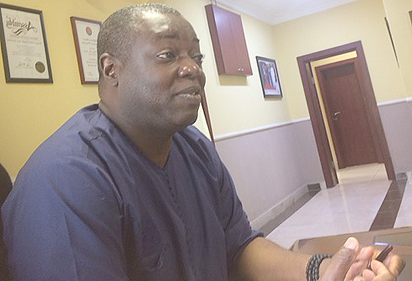 Excerpts:
Involvement with car productions 
My background in the car business is been quite interesting. I have been involved in the automotive sector since the early '90s and I worked with proton and lotus and I helped develop the position of Lotus by the Malaysian government in 1999 and I've been involved in Formula 1 as the first black man to ever be on a Formula 1 team.   I was also in Hyundai for 6 years.
Fortunately and unfortunately, nobody have been able to be the next black man and that's a record I'm still holding till date. As far as being in the automotive section, I have come from the production side to the racing side, and I have been a personal race-car driver myself and I always have a passion for it coming from the oil and gas side as a son of the first man from Nigeria to drill from Nigeria soil – my father pioneered that business.
And in the late 2000s, I got involved with the United Nations as the Under Secretary for renewable energy and I began to focus my intention on renewable: solar, hybrid, looking at how we can develop non-hydro carbons based global economy which is a little bit of a contradiction from where I came as an oil and gas man's son, to now lead the charge for renewables.
I also started pushing the envelope as to what renewables can do – at the moment we are building a 100megawatts power station in Katsina State from solar; in Adamawa we are building another 100megawatts and these are going directly to the grid; they should be functional by first quarter of 2018 and we've made the charge on that and I believe that our brand will stand the test of time as far as developing a very Africanized field to renewable energy.
In late 2016, we did the first solar show here with NNPC and NIPC to push our agenda of exposing renewables to the Nigerian market and it was quite successful and since then  we have been involved in various renewable projects in South Africa and in the UAE.
Countries phasing out 'petrol vehicles'
In my travels a lot of people ask me what's the next thing and if you see what's going on in the papers of late, the UK is going off hydro carbon by 2040, and no more hydro-carbon energized cars, because there will be no internal combusting engines; France is the same; Indians even  fast-tracked   theirs by opting for 2030.
Are we going to become a waste bin for combusting engine cars by 2040?
We are blessed with abundant sunshine in Africa, yet we are energy deficient.   The question I always get asked when I speak in events is: 'how do you want to get energy for electric cars when you don't have electricity for your homes.'
The reality is that electric cars can be powered by batteries which are charged by either the means of conventional power or as we do it mostly in Europe through storage systems that are storing power from solar.
We got involved with BYD which is the largest producer of electric cars in the world and we focused on them for one good reason – the international brands out there, Mercedes, Tesla, BMW, Volvo, have made it clear that by next year all their cars will no longer be combustion engine cars.
Ford just announced yesterday that it would be building electric cars in China under a new brand and it just occurred to me that if all this is happening around us, this is also a great opportunity for Africa to now look at if and ask why can't we build our cars and why can't we develop our own branded vehicles because the one component that we are always lacking in the intellectual property, is in the engine of the car.
We can design.   After all a Nigerian designed one of the bestselling cars ever made.
So, I took the module that I learnt from Proton and what proton did was what Malaysia used to create a car of its own, by going to Mitsubishi and it said to Mitsubishi, 'give me a car'.   So they took a Lancer and they rebadged it as a proton and that became the Malaysian national car.
So, it was really assembled in Malaysia and it was imported first from Japan as a Malaysian car, then after a critical number they said they are building factories and that was when they came to me saying 'we want engineering what will you advice'?
So, Lotus is also a British car but it's owned by the Malaysians; they have learnt and taken that internal knowledge and created the proton car into a more Malaysian identified car – yes the DNA was from Mitsubishi, but now it's a hundred percent DNA Malaysian through the acquisition of Lotus.
The opportunity for Nigeria
So what I have done is taking that as my template and I went to BYD and said look, there is an opportunity for Nigeria and Africa to start that next frontier which is electric vehicles.  We want to be at that cutting edge. The way we want to do that is learn about the vehicles, learn about the engineering and be a manufacturer by 2040 when everybody else is now saying combusting cars are banned.   We want to say 'keep your combustion engines in fact, we are now importing any combustion engine, we have a nationally produced vehicle or a continentally accepted vehicle', so that was my push.
BYD spent about seven months doing some due diligence.   We came together, we agreed on the way forward.   We just signed an agreement to first import either the BYD vehicles, look for a Nigerian brand, we are still looking at the name, that we want to use, and by 2020, we would start an assembling plant here, assembling Nigerian branded electric vehicles with all the modern accruement that you want in a car,
Yes it would have its DNA initially started from BYD; and BYD head engineer was the head engineer from Audi, so we know that it's going to be a tremendous amount of creation of comfort and modernity in these cars and we are hoping that by the time we start assembling these cars.   We would also bring Nigerian designers from around the world to come in and have an Africanized DNA in this vehicle as well. So we are looking at competition for design.
The beauty of our building an electric vehicle is that you are not looking at anything too complicated, you have got the drive which is the electric drive and everything else is just the creation of comfort, of a high speed car or SUV and the buses also and we have the electric trains.   So what BYD gives is 12 different types of vehicles that we can initially start bringing into the country and then looking at how we start assembling, given that transfer of technology, the knowledge, the training and without the complexities of mechanical engineering. I think this gives us a jump, very similar to what we saw with mobile phones.
You know we have one from the 090 to the GSM and the acceptance in Nigeria has been far above any other country in the world.
So our focus now is on two sides: were are going to run out of oil at some point; we know that, but we know for sure that the sun will always shine, if the sun is not shining then we know that we have bigger problems.
The world walks with sun shine
So the way the world works with sun shine, we are blessed with an abundant amount of that sun shine. If we can take technology and harness it to our advantage as a country and by the end of the century we want to be in a position to be producing our own products.
So my focus is on; yes we are blessed with oil and gas, but that doesn't mean that we should be thinking that it's going to last forever and since we are a modern society with a very young population as 75% of us are under 30, this is something that is going to be very well accepted by the youth and very much appreciated by the youth. God knows how many times a year, we are running out of diesel, our facilities have been vandalized, pipelines vandalized and that affects cost of transportation, oil, we have just had this issue with the escalation of crude oil prices or the de-escalation of crude oil prices, the removal of the subsidy and everything else, and you can go on and on about our challenges.
Electric vehicles are really a misunderstood quantity as far as the African continent is concerned.
If you look at countries that have a developed industrial base like Germany, they have realized that yes, it's phenomenal to have hydro carbon driven vehicles but if you look at even Formula 1, we have cars from electric vehicles that even the Formula 1 car itself has stored electrical quantity that it discharges during the race. We have Formula E now, that is even completely electrical-driven series and you have got cars in the street that are hybrid.
Nigeria should harness this technology and take leadership in Africa
So you can see it's coming but are we ready? And that's what I am trying to do, I want us to be ready, I want us to harness this technology, I want us to have our own DNA and so the relationship with BYD is going to create that in a very simple way.
Teachers have to assemble and then that give us the knowledge to develop a unique product for our continent. That vacuum that would be left between when hydro carbon stops, to electric cars coming into play, is between now and 2030.   I believe Nigeria should be in that position of leadership on the continent.
So, Nigus is to develop this idea that by early next year, we would start importing the vehicles, we have a show here that we want to do on  November 26, which would show case the car, the SUV, the bus; we are going to be showcasing the industrial applications which are tractors and forklifts. Even municipal vehicles like trash compactors and water trucks are driven by electricity.
Electric Buses for Abuja mass transit
We have gone far enough to go to Abuja infrastructure Investment Company within FCTA? And the minister has been kind enough to listen to us; he is excited by the project; we would like to see if we can make Abuja one of the first cities to go green with this public transport and we are providing a project with Abuja mass transit through the Abuja infrastructure investment firm, to bring those buses into Nigeria by next year and that would be a PPP proposition with the minister of FCT.
We realized that by our E6 Nigus BYD car on the road, that is also a great way for people to see on the road that these cars are moving and they are doing very well and you get to experience it first hand.   The cost of operations of electric taxi compared to hydro carbon taxi is a third of the cost of running a taxi in a year and the reason for that is that if you charge the E6 battery for the taxi, it would be 500 kilometers on one charge.
Taxi operation cost reduces to a third
So during the day time when the taxi is out running, it's storing the power, when you come at night, it's only an hour of charge, you put it in and it charges the battery but there's also something interesting about the batteries; they are 40 kilowatt batteries that are like a 45 KVA generator. You can actually take your connection plug and connect it to the car and it would light your house up, it would give you all the energy, including your AC, it's not like a normal inverter where you cannot put your AC.   The car can revert the power and deliver it in your home.
Charging stations to be provided
We are also looking to a joint venture with NNPC with BP in South Africa.   We are talking about hydro carbon companies redefining themselves to energy companies.  When we sat with them in South Africa we said why don't you have these solar charging stations in your mega stations and it is the same thing we want to do with NNPC.    We are not going to have many of them initially but as people begin to adopt and adapt    to this, it is going to be something we will start seeing in people's homes.  Electric cars are here to stay and if anyone is under the illusion that electrified vehicles are a novel idea they have not only lost the bus they have missed what is coming in front of them and this is not time to field fiction.
Cost of electric cars
You cannot always be certain with these things because there are two things there.   There are high grade versions which are the engines, gasoline engine and electric which are also phenomenal vehicles to use in case if one isn't available, you could always use the other and switch between both and that's the technology we are also thinking we might introduce at the same time, but you are looking at vehicles that are ranging between $26,000 and a $100,000 everything in between on cars and trucks.   And nothing is different except for the running cost and you use it in comparable terms at the most 20% higher than the combustible engine car as far as the price is concerned.    However, the operational cost is far less.   Servicing of engine, no fuelling, no belt and the other parts of the engine that motorists regularly replace.   The only most important cost component in the electric car is the battery.
Batteries for lease
One consideration we are looking at is to lease batteries to electric car owners.   You can buy you car without a battery and obtain battery on lease.   This will also open up business opportunities for many other players to participate in the sector.