By Ochuko Akuopha
OLEH—Worried by the occupation of their farmlands by armed herdsmen, indigenes of Iyede Kingdom, Isoko North Local Government Area, Delta State, yesterday, barricaded the Ekiugbo-Iyede axis of the Ughelli-Asaba expressway, demanding their vacation from their communities.
The protesters from Ekiugbo-Iyede, Oghara-Iyede, Oteri-Iyede, Eboh-Iyede, Ogewho and Okpaide communities blocked the busy road about 6.30a.m., obstructing vehicular movements for over six hours.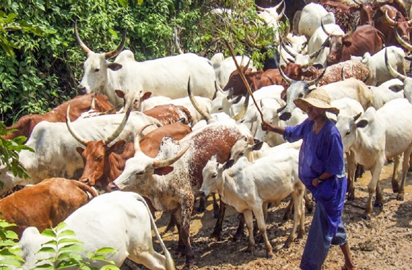 It however, took the intervention of the President General of the Isoko Development Union, IDU, Chief Iduh Amadhe, Vice Chairman of Isoko North LGA, Mr. Anthony Odhe and security operatives who visited the scene of the protest to bring the situation under control.
Speaking during the protest,  Chairman of Ekiugbo-Iyede community, Pastor David Onobreme, described the action of the people as spontaneous, lamenting their incessant harassment and rape of their women in their farmlands by the herdsmen.
He said: "They have been destroying our crops with their cows and when we challenge them,  they attack our people with cutlasses and chase them from the bush. Our people are now apprehensive and can no longer go to their farms. We had written series of protest letters to the state government and security agencies on the situation, but nothing has been done to address the problem."
On his part, President General of IDU, Chief Iduh Amadhe, said "The council chairman represented by his vice and l have appealed to the community leaders to give peace as chance and as a quick response to arrest the situation, we resolved that all the herdsmen in the bushes of Iyede communities should quietly lead their cows away so that we don't aggravate the problem."