Comr. Efemena Kelly Umokoro is the National Press Secretary, Urhobo Progress Union, youth wing worldwide and the Delta Central Coordinator, Committee for the Defence of Human Rights, CDHR. In this interview with Anthony Arugba, he speaks on the Urhobo struggle.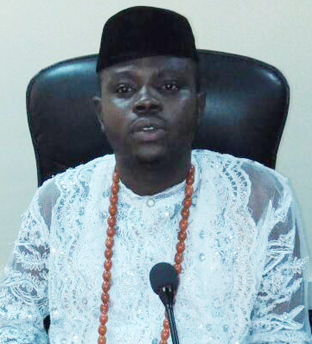 We learnt that the youth wing of UPU had an election, but was later annulled, what led to the cancellation?
It is not possible to hold an election without the competent persons. There was nothing like election because all we heard was that they were going to hold a meeting and to our greatest surprise, we learnt on social media that UPU youth wing had an election. For instance, I am the National Press Secretary, UPU, worldwide, and I have no knowledge of any election. In UPU, we we have a Constitution and laid down procedures for carrying out elections into elective positions of the union. According to UPU Constitution, before an election can be recognized as valid, a three months notice must be issued; it must be published on national dailies and the 24 kingdoms in Urhobo land must be aware. But none of these requirements were met; in fact, no media house covered the election we only heard of it on social media. It is a kangaroo election made possible by our over zealous politicians who are using government machineries to cause confusion in Urhobo nation. Even the two persons who claimed they contested are currently having issues; one of them staged a walk out during the so-called election, saying that ' he did not go to the venue for an election, rather a meeting and that his name was wrongly mentioned in the list as executive of the union'. So, as it stands, it is null and void. The Comr. Igho Anthony led executive remains the legitimate executive of the youth wing.
Urhobo nation is gradually becoming a shadow of itself due to the crisis rocking the parent body, what do you think is the way out of these crisis?
First and foremost, government agents must steer clear of UPU affairs. You know, UPU is a socio-cultural and ethnic body and not a political organization. I want to also advise Urhobo politicians to stop putting the governor in bad light. For them (Urhobo politicians) meddling in the affairs of UPU, is making it look as if the governor has a hand in the crisis. And we know that, Governor Ifeanyi Okowa, will never meddle in the affairs of UPU, rather, our greedy politicians are the ones using government apparatus to destroy UPU. Again, the best way out of this crisis is for all Urhobos to speak in one voice. Our people must understand that, before they became APC or PDP members, they were Urhobos and are still Urhobos. Let the interest of Urhobo come first before any other interest. Secondly, UPU elders should follow strictly the constitutional provisions of UPU in settling the crisis. If they can do this, then settlement will be a reality. Personally, in my own opinion, nobody should take sides with Chief Joe Omene or Chief Moses Taiga. If this two persons really mean well for Urhobo nation, let them sit on a roundtable and find out the stance of the constitution on the matter and also, for the interest of Urhobo nation; let one step down for the other. We all know that the crisis in UPU is because of 2019 elections. I appeal to all to, as a matter of urgency, take politics out of UPU because that is the only way UPU can stand again.
Looking at the Pan-Niger Delta Delta Forum, PANDEF, do you think the interest of Urhobos are fully represented?
No. The Urhobo interest is not represented at all. Although, my love for the Ijaws has grown over time, but the Ijaws are making Niger Delta struggle look as it is only Ijaws that makeup the Niger Delta region. The Ijaws want to acquire everything accrued to the region, forgetting that Urhobos play vital role in the region, hence our importance cannot be over-emphasized. We have the largest community that produce gas in West Africa. We cannot be left out when it comes to the negotiation of Niger Delta struggle, but the Ijaws are taking undue advantage of our peaceful nature; is it because we don't bomb pipelines and carry firearms? If they think we are weak link, then they are mistaken. The government must understand that, 'the humility of a tiger is not cowardice'. The fact that Urhobo people are law abiding people should not be mistaken for cowardice. We don't want to believe that violence is the only language the Federal Government understands; we can as well be violent, but we don't want that because we are educated elites who want to contribute meaningfully to the growth and development of our society. Frankly speaking, I think it is because of our peaceful nature that the government has refused to include us in their negotiation with Niger Deltans. Urhobo is not fully represented in PANDEF because the only person there is Prof. Darah, who has not been furnishing us with the desired information. We need to be carried along in the scheme of things; we need to know what is happening and the way forward. The struggle has been hijacked by the Ijaws; the struggle is now Ijaw struggle instead of Niger Delta struggle and we are not comfortable with this development. Let me tell you, before PANDEF can be perceived to be functional and serving its purpose, every ethnic nationality in the South-South region must be fully represented in equal numbers; the representatives of each nationality must be equal. Go and check the delegates, you will not pick an Ekwere, Anioma, Isoko and Urhobo man. It looks as if the Niger Delta is made up of only Ijaws because of militancy. If this inequality is not addressed, there can never be peaceful dialogue because the government is indirectly telling other tribes in the region who are not violent to become violent before it can heard. The Urhobo interest in this dialogue cannot be swept under the carpet. Looking at surveillance issue, the Ijaws and Itshekiri have had their own turns, and so it is the time for the Urhobos to have our own surveillance contract. Unless every ethnic nationality in Nigeria is being treated with fairness, justice and equality, peace will continue to elude us as a nation. Peace in the Niger Delta, means peace for Nigeria because we are the economic brain box of this country.
Recently, there was a programme-Niger Delta Peace Dialougue, Warri 2017, what are your thoughts on the programme?
I can tell you without any modicum of doubt, that meeting was not a dialogue. Dialogue means two persons or parties with dispute in a round-table trying to resolve their differences. What we had that day, was a case of Niger Delta youths gathered in a hall to waste their precious time. The state government representatives were not there, the Federal Government was not represented, so; who are we dialoging with if I may ask? Although, I commend the initiative because this is the first time Niger Delta youths converged to rob minds together, but the Convener did not go about it the right way. The persons who are supposed to be in that meeting for it to be perceived a dialogue are- the federal government representatives, International Oil Companies, IOC, host communities and the youths. When these four groups meet to discuss and analyze issues critically as it affects the region then it would have been perceived that there was indeed dialogue on that fateful day. But what we saw that day was Niger Delta youth leaders gathered together to discuss and not a dialogue. The president of UPU youth wing, Comrade Igho Anthony and I led Urhobo youths to the meeting, the Ijaw Youth Council, IYC, was in attendance, Anioma youth leaders among other youth leaders. It was just a gathering of Niger Delta youths, so; I will not say it was a dialogue because those parties mentioned earlier were not in attendance. You see, Niger Deltans are peace-loving people but we became hostile and began to seek self help when the government refused to hearken to our cries. This is what the hostility is all about at the moment. If government can sincerely listen to our cries, if we have commensurate development compared to the pollution in our communities, then there will be peace in the Niger Delta. The idea of ' Monkey dey work, baboo dey chop' is the problem we are having in the region. If the inequalities can be addressed, peace will take the lead. Again, the government can continue to pump billions of naira into the Niger Delta, but if our politicians don't have a change of mindset towards public funds, the problem will persist. Our politicians must understand that the future of Niger Delta; making the region to resemble Dubai is in the hands of our politicians. Billions of naira have been pumped into Niger Delta region with nothing to show for it. So the mindset of our politicians, youths and federal government must change. Unless this mindset change is visible, development will remain a pipe dream.
Many persons are of the opinion that our elders have failed the nation and as such; the younger generation should be given opportunity to lead this country. Looking at the ' Not too young to run Bill', do you think the youths should be given the opportunity?
Thank you very much. The ' Not too young to run bill', without mincing words is good start for Nigeria because our politicians think our responsibility is to steal ballot boxes for them during elections. I always tell youths that before you steal ballot box for any politician, make sure the politician's first son is in front of you to steal the first ballot box before you still the second. They cannot take their sons overseas to study and bring them back to lead us, again. The bill is a step in the right direction. Let the old politicians be the ones to steal ballot boxes for us. Come 2019, anybody who is above 40 years, I will personally see to it that the youths don't vote for such persons. We need vibrant young intellectuals as House of Assembly members, governors and presidents. In France, their president is 39 years and who says such cannot be obtainable in Nigeria. Nigeria is under siege, take it or leave it. Even though I pray for the quick recovery of our dear president, but the fact remains, Nigerians voted for problem because the man is old. How can a person struggling for his life be leading Nigeria? Our old ways is gradually catching up with us. It is better we allow the younger generation to lead. I strongly support this bill and I am convinced it will set Nigeria on a path of recovery.
What is your message to Deltans?
We should be hopeful because there are better days ahead. We should steer clear of crime and criminality. There are better ways of agitations for the government to listen us. Violence has never and will never be the best option to press home our demands. The best option still remains peaceful dialogue. Our youths must wake up because we are the leaders of tomorrow and with out us, tomorrow will be a mirage.