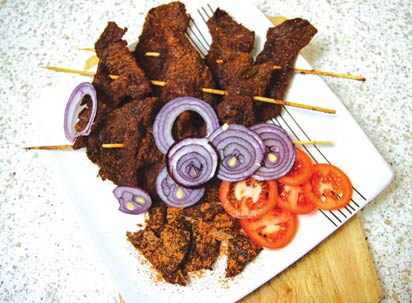 Suya
By Evelyn Usman & Jefferson Okeke
LAGOS—A 35-year-old man, Alliu Abdullai, who sells barbecued meat, popularly called Suya, has been arrested over attempt to murder a four-year-old child, who was abducted at White Sand Market, Otto, Ebute Meta area of Lagos State.
Abdullai was alleged to have abducted the toddler from her unsuspecting mother's shop weekend. Thereafter, he reportedly took him to his Suya stand, where he took his knife and attempted to slash the toddler's throat.
However, a man reportedly accosted Abdullai and immediately raised the alarm. During the struggle to rescue the knife from Abdullai, Police said he inflicted a cut on the good Samaritan.
Lagos State Commissioner of Police, Fatai Owoseni, who paraded the suspect alongside his two relatives, at the Police Officers Mess, Ikeja, yesterday, said: "The child has been reunited with her mother, while the kidnapper and would-be murderer will be arraigned in court."
However, when approached, the suspect could only mention his name, but could not express himself in English Language.
'He had an accident as a child'
His relative, Akilu Isa, who was also arrested, claimed that he (Mohammed) was insane.
According to Isa, "he (Mohammed) is my brother. He is not mentally stable. He had a shock while he was a child, which affected his brain. At times, he would behave normal and at other times he would behave abnormally.
"We all sell roasted meat (Suya) at the market. On that fateful day, the mental disorder gripped him. He immediately picked up the girl and at the same time, lifted a knife which he uses for Suya.
"At that point I beckoned on my other relative, Salisu, to come to the girl's aid. We immediately gripped him and succeeded in retrieving the knife from him. Thereafter, we tied him with a rope.
"I was even the person that told a crowd, who attempted to beat him, to call the Police to arrest him.
"When the Police came, they took him away. But to my surprise, when I went to the station with the chairman of our section, I was arrested with another relative of ours. As I speak, I don't know the reason why I am arrested."