By Rotimi Ojomoyela
Ado-Ekiti—Ekiti State Governor, Mr Ayodele Fayose, yesterday, declared that the ongoing reconciliation among aggrieved party members will not accommodate dissidents and those seeking the downfall of the party.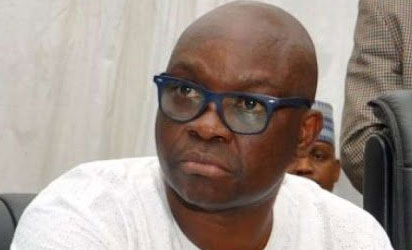 Fayose, who made the statement at the opening of reconciliation meetings involving some chapters of the party in the South-West geopolitical zone,said efforts to reconcile aggrieved members and leaders would not be allowed to be thwarted by some people.
Fayose is the chairman of the reconciliation committee in the zone.
The reconciliation meeting had delegates from Osun and Oyo states in attendance.
"This exercise is a fallout of our recent non-elective national convention. The leaders have mandated us to bring on those who are ready to support our great party in the drive to chart a new way forward for the party. In doing this, we won't give room for dissidents to frustrate us and our effort.
"Some people are claiming to be members of our party and at the same time going to court to frustrate the party. They tried unsuccessfully to stop the last convention using the court, but they failed woefully. There is no room for anybody who is one leg in and one leg out. It is either you are here or there. I am sure no judge would allow himself to be used as a spoiler by some filthy politicians.
"Sanctions will be imposed on errant members and those who are loyal party members and working for the progress of the party have nothing to fear.
"The success of our last convention brings the hope for a new Nigeria. The opposition must be organised for the sake of democracy in our country. For us to be organised, we need to shift ground where necessary. Whoever loses out today, may win tomorrow. I am not from Oyo and won't be biased.
"In my situation, after leaving office, God still brought me here as the governor of my state. If President Goodluck Jonathan had won a second term, I may not be relevant like I am today. My appeal to you is that don't allow anybody to use you for evil in our party," he said.
Among those who spoke for the Oyo State delegation included Senator Ayoade Adeseun, Mrs Bosede Adedibu and Honourable Alarape.
They said they would go back home and reconcile, saying leaders in the state were already working on how to smoothen rough edges.
Meanwhile,  a former Deputy Governor of Ekiti State, Chief Abiodun Aluko, dumped the Peoples Democratic Party (PDP) accusing Governor Ayo Fayose of turning the party to his personal estate and harassing prominent leaders.
The ex-deputy governor, who was a PDP governorship aspirant, claimed that Fayose has been intimidating other aspirants like Senate Deputy Minority Whip, Senator Abiodun Olujimi and the party's national spokesman, Prince Dayo Adeyeye to drop their ambition for the 2018 gubernatorial poll.