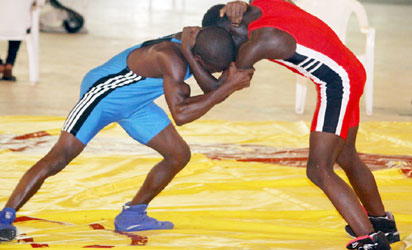 Wrestlers size each other during a bout.
Yenagoa – President, Nigeria Wrestling Federation, Daniel Igali, (NWF) , says six wrestlers are set to represent the country at the 2017 World Wrestling Championships in Paris.

Igali said in Yenagoa, on Thursday that the wrestlers consisted of four female and two male, to be accompanied by two coaches.
He said the championship is scheduled to hold between Aug. 20 and Aug. 26.
He expressed confidence that the team would perform well in the Championships, noting that the wrestlers are two times Africa Champions, Amas Daniel, 65kg and John Emmanuel, 70kg in the male category.
"Blessing Oborududu, 63kg, 2014 World Bronze medalist, Adekuroye Odunayo, 53kg, Africa champion; Mercy Genesis 48kg, and 2014 Commonwealth gold medalist, Aminat Adeniyi 58kg will represent Nigeria in the female category.
"The Coaches of the team are; female National head coach; Purity Akuh and 14 times African champion; Victor Kodei.
"Of course, the wrestlers are going to make Nigeria proud, we are targeting the first ever gold medal at the world championships.
"The team is in a very high spirit and I am optimistic that they will deliver," he said.
NAN recalls that the Nigeria National Wrestling Team had been training in Yenagoa, Bayelsa State capital for the past two weeks in preparation for the Championships. (NAN)