BY UGOCHUKWU ALARIBE
ABA- Leader of the Indigenous People of Biafra, IPOB, Nnamdi Kanu, has said that he set up the Biafra Secret Service to protect the people of Biafra.
Kanu, who spoke to journalists after a visit to the chairman, South East senate caucus, Senator Enyinnaya Abaribe, at his country home, Ohuru, in Obingwa council area of Abia State, explained that there was no need for anybody to be afraid of the internal operations of IPOB, assuring that the group will never engage in violence or armed struggle.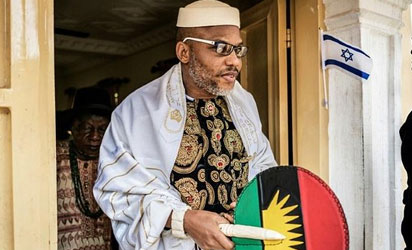 He lamented that the Nigerian Police has failed to protect the people of Biafra from the menace of Fulani herdsmen, stressing that the Biafra Secret Service is similar to the Hisbah and Sharia Police in the North.
According to him, "There is no need for anybody to be afraid of the internal operations of IPOB. Biafra Secret Service is like the vigilante outfits you have everywhere. It is not armed. We want to stop the menace of Fulani herdsmen in our land. We won't tolerate it, it won't happen here. In the North, you have the Hisbah Police, Sharia police; you even have the Janjaweed police. Here, we have nothing; we need to protect this land. We need to prevent the Fulani cattle men from rustling; we are opposed to every form of disorder and criminality. IPOB will never be violent, we will never be armed.
"So, there is no need for people to be afraid of the internal operations of IPOB because we will never resort to armed violence or armed struggle of any sort .Our method is far more potent and effective than any armed struggle. So, I will always listen to him and I will return to him from time to time.
"The Nigerian Police has done nothing, absolutely nothing. Fulani herdsmen have been rampaging everywhere. President spoke, he never mentioned the menace of Fulani herdsmen, his interest was Biafra, unity, threat and intimidation. That doesn't work with me, it may work with you, but it doesn't work with me. You don't intimidate me because I'm a Biafran."
Senator Abaribe, who said he had fruitful discussions with the IPOB leader, stated there are lots of misconceptions and misunderstandings as well as too much tension in the land and urged Nigerians to work for the peace and unity of the country.
He disclosed that the caucus is committed to ensure a better country where every section of Nigeria will have a sense of justice and equality.
"Nnamdi Kanu has assured us that IPOB is non violent, will continue to remain non violent and will not in any way, do anything that will lead to bloodshed. We have also told him our stand. Our stand is that we cannot continue this nation the way it is. There must be restructuring, there must be devolution of powers; there must be discussion by the component parts to ensure that every part of this country will have a better and far more promising union. Not a union that you will have some people feeling that there are first and second class citizens. We had very fruitful discussions," Abaribe said.