By Kingsley Adegboye
REAL estate professionals have reiterated that investment in real estate sub-sector of the Nigerian economy is key to wealth growth.
Disclosing this at the unveiling of housing types of Perfection Real Estate Investors' Cooperative Society Ltd, a Lagos-based real estate investment group, in Lagos on Sunday, the professionals said investing in the sub-sector guarantees investors opportunities to home ownership and wealth creation.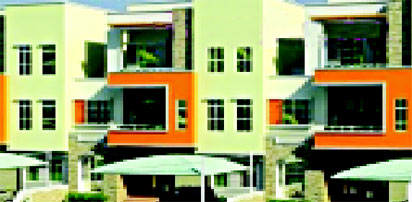 The President, Perfection Real Estate Investors' Cooperative Society, Mr.  Niyi Adeleye, while delivering his keynote address said the concept of the cooperative flowed from the passion to tackle the challenges in real estate sector, because the economic power of the average Nigerian has been greatly eroded, thus making it difficult for him or her to own a home let alone invest in real estate which is capital intensive.
According to Adeleye: "We came together to kick off the wealth creation process by pooling our resources together in order to take advantage of opportunities by investing in real estate and to enjoy all the benefits thereof together.
Special real estate projects
"By pooling our resources together we have been able to get involved in some mega real estate deals; we have also invested into expanse of land in different locations that is today known as the Perfection Cooperative Estate brand, the reason for which we are all gathered together today to unveil and launch the housing scheme which will kick off from our Perfection Cooperative Estate phase 1, Ibeju Lekki, Lagos.
"Our members have been receiving passive income on investment every quarter from wealth created from time to time. We also enjoy fantastic returns as we take advantage of special real estate projects that each of us wouldn't dare to touch in our individual capacities. Our members who are ambassadors make money to the tune of millions of naira monthly through wealth creation awareness about us and our products.
"We have been able to generate employment directly and indirectly for people working for us such as  architects, legal consultants, land surveyors, quantity surveyors, engineers and the likes. Perfection Real Estate Investors Cooperative Society is an independent membership based real estate club whose sole purpose is wealth creation through real estate investment for the benefit of members.
"It is all about collaboration, networking and synergy, an opportunity to become a real estate investor and earn enough passive income leading to financial freedom, opportunity to achieve your own home ownership dream, grow your knowledge about real estate in order to take informed investment decision always," he stated.
Chairman of the occasion, Mr. Meckson I. Okoro, an estate surveyor and valuer and principal partner, M. I. Okoro & Associates, in his remarks said: "The core purpose of creating this society is mainly to empower people and provide solutions to the human problems in real estate sector, while the ultimate goal is to aspire by all means to achieve financial freedom for each and every member of the society through real estate investment.
"It is a better store of wealth because it appreciates in value and therefore magnifies the Returns on Investment. If you check the lands that were cheap back in the years, their value now would have definitely gone up. Also check the house rents that were peanuts back then, you would see how much the rent has increased. For example, in 1995-1999, one could still buy a plot of land in Lekki Phase 1 for one million naira or less, but today, that same land would range from N150m-N200m depending on the location.
"Also, Dolphin Estate four-bed room duplex that cost N240,000 between 1984 and 1988, is now about N80 million and N120 million depending on the location, while the rent that range of N40,000-N50,000 as at that time is now about N4.5 million or N5 million per annum."
According to him, the cash flow is constant, easily predictable and subject to good tenants who are willing to pay their rent when due as opposed to those who prefer making a case in the law court instead of paying their rent.
He explained that there is high return on investment with little risk potential because of the ever increasing demand on housing and land, saying housing has no alternative. "Once you are on earth, you must make use of land or housing even if you live in the water or sky, because all these are still part of land.
"Maintenance cost is low on annual basis compared to other investment options and therefore always leaving a surplus in the hands of investor as profit, year in, year out. Taxes on property is low leaving unearned income in the hands of investors. In Nigeria, land and housing taxations  are not common. What is familiar and operative is the Land Use Tax in Lagos State and tenement rates in other states of the federation."
Debo Adejana, a Guest Speaker, said the time to invest in real estate is now with the number of growth poles in the Ibeju Lekki axis of Lagos like the Dangote Refinery, Lekki Free Trade Zone, and an estimated 50,000 new jobs over the next decade. "Investing in real estate now is the right investment move anybody can undertake, especially with Perfection Real Estate along the Ibeju Lekki axis," he said.