…Say they want restructuring, not breakup
…S-South APC chieftains allege political sabotage
By Emma Amaize, Samuel Oyadongha,  Festus Ahon, Egufe Yafugborhi, Emmanuel   Una Godwin Oghre,   Chioma Onuegbu, Ike Uchechukwu, Emem Idio, Davies Iheamnachor, Ochuko Akuopha, Emma Ayungbe and Sunday Bomadi
SINCE  penultimate Thursday when a group of militants under the aegis of Coalition of Niger Delta Agitators, CNDA, issued a quit notice to Northerners and Yoruba to leave the Niger Delta region before October 1, ahead of their planned resumption of fresh bombing of oil installations, the agitators have come under intense fire by leaders and stakeholders in the oil region, who said they cannot dictate for the region.
Though some believe that the agitators were exasperated by the earlier quit notices given to the Igbo in the north by Arewa youths and obvious disproportions and neglect of the region, the leaders, nonetheless, see no justification in asking northerners and Yoruba owners of oil blocks in the region to leave, saying the call for restructuring of the country does not translate to a demand for breakup.
Militants on their own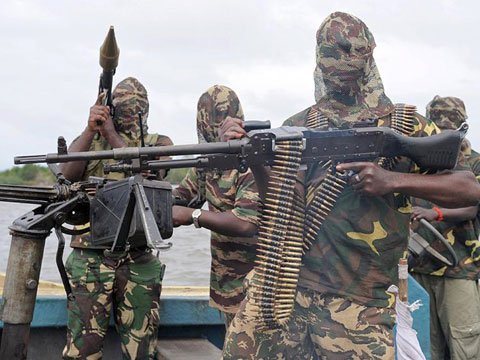 President of Ogbakor Ikwerre Worldwide, an organ of Ikwerre ethnic nationality in Rivers state, Prof (Emeritus) Simeon Achinehu, told Saturday Vanguard:   "We, the elders and opinion leaders in the Niger Delta do not know those people who issued such ultimatum. Who are they? Are they the owners of Niger Delta?  There are people who speak for us, the coalition which gave the quit notice does not represent us. Nobody in Ikwerre ethnic nationality has approached our leaders seeking our opinion, so such quit notice cannot stand."
Achinehu, a former vice chancellor of Rivers State University, further    averred: "They are faceless people. How can miscreants be issuing ultimatum and be causing unnecessary panic in the region. The move to cause problem will fail. Niger Delta as a region has not issued quit notice to people residing in our area, so they should not panic. They should remain peaceful and law abiding.
"The governors of the various states in the region, who are the chief security officers, are not in support of it, so it will not stand. We the opinion leaders are also not in support of it, "he asserted.
Former governorship aspirant in Cross River state and PDP women leader, Mrs, Philia Henshaw, stated: "I do not subscribe to any one part of the country intimidating the other, therefore, those who are sponsoring such hatred in the country should know that the blood of the people of this country will hang on their necks if any violence erupts through their quit notices. Those who are issuing the quit notices have nothing at stake in this country, but are being sponsored by some people with a hidden agenda. Those people must be called to order now.
What this country needs at this time is restructuring for the resources in each state or zone to be used in developing that area and anyone should be free to live or reside anywhere he feels convenient and not   be subjected to intimidation or attack. The Niger Delta youths who are issuing such quit notice are on their own because the majority of the people of the region have nothing against their brothers from the north, but want equity, justice and fairness," she said.
The Muri Munene and paramount ruler of the Efik, Murni Effiong Mbukpa, simply said: "That thing is fire and should be handled with care."
The Urhobo Youth Leaders Association, UYLA, in Delta State, in a statement by the spokesperson, Terryson Orhiunu, also described the so-called agitators who issued the quit notice as miscreants.
Head of Bayelsa state office, Environmental Rights Action, ERA, Friends of the Earth Nigeria, FoE, Comrade Allagoa Morris, told our reporter on phone: "Our brothers and sisters issuing that negative statement are not helping our region by playing to the gallery so cheaply.
They would be more appreciated if they should deploy their energy and time towards more positive issues that concerns us. While the group is entitled to its opinion and should be responsible for its actions associated with it, I think that the nagging issues on non performance by our politicians at the state and local government levels should also be of concern to them.
"I suggest we concentrate more on ensuring that those extracting oil and gas from our environment are doing so responsibly, upholding best practices. Oil spills and gas leaks related matters should be treated with all seriousness, including compensation to victims where necessary. If they are issuing ultimatum in these areas, it would make more sense and better appreciated," he asserted.
Chairman, Southern Nigeria Forum for Development, SNFD, Mr. Mike Ogar, said: "What the Niger Delta should be asking for is true federalism and that mutual respect should be the guiding principle."
Conspiracy to destabilize Buhari govt- APC leaders, activists
Vice chairman, APC, South-South, Ntufam Hiliard Etta, said, "I belong to the school of thought that Nigeria belongs to Nigerians and every individual, who is a citizen of this country can reside in any part that is known as Nigeria. No group, be it ethnic or organization has the right to issue quit notice, it is illegal, unconstitutional and cannot stand".
Former Niger Delta Development Commission NDDC Managing Director and APC stalwart, Professor Eyo Etim Nyong, told Saturday Vanguard that, "The country at this time needs peace, which is what President Muhammadu Buhari is doing to bring lasting changes in this country with his fight against corruption. People should give him support and useful ideas not distractions in the name of quit notices to ethnic groups.
"We have come a long way in this country as one entity and the only way forward is unity and singularity of purpose to combat the forces of unemployment, corruption and criminality bedeviling this nation. There are so many things that unite us as one country and make us a force to be   reckoned   with, therefore, we cannot after so many decades of living together fritter things away on the platter of squabbles, animosity and conflict," he declared.
Convener, South- South Reawakening Group, Dr. Joe Ambakederemo, retorted:  " I do not think we should be reacting to every of these ultimatums and quit notices being issued left, right and centre. It is becoming monotonous and I think we should ignore them and endeavor to make Nigeria great. Let us channel the zeal and vigor with which we issue these quite notices to a more productive enterprise to rebuild Nigeria."
Foremost human right activist and lawyer and an APC chieftain from Cross River state, Mr Utum Eteng described the quit notice issued by the agitators as political sabotage and a plot by some disgruntled elders to hold not just the region but the entire country to ransom.  Eteng stated that Nigeria belongs to Nigerians and not any ethnic nationality, whether Igbo, Hausa, Ijaw or Itsekiri.
He argued    that "constitutionally, every Nigerian has the right to reside in any part of the country without being challenged or molested, it is one Nigeria. The quit notice issued is a politically organized sabotage to frustrate the Buhari –led administration and I believe this is corruption fighting back.
It is criminal because a bunch of criminals are trying to hold the country to ransom and when you look deeply, you will discover that they are being sponsored by some disgruntled elders and some criminal elements. No Nigerian should move because of this empty threat, Niger Delta is not a sovereign state and nobody can breach the constitution by ordering otherwise."
Action begets reaction- Ayemi-Botu, Diongoli, Loyibo
Reacting to the ultimatum, former national chairman of Traditional Rulers of Oil Minerals Producing Communities of Nigeria, TROMPCON, and Pere of Seimbiri Kingdom, Delta State, HM Charles Ayemi-Botu, said: "Perhaps the recent quit notice given by a Coalition of Niger Delta Agitators was sequel to the earlier quit notice given by the Coalition of Arewa Youths in conjunction with other Northern Youths Movement to the Igbo living in the North to quit by October 1st. 2017.
However, in my opinion, it is uncalled for and I hereby advise them to retract their statement and allow peace to reign. It is pertinent to state that the unity and indivisibility of Nigeria is sacrosanct, except and otherwise through the recent popular demands that Nigeria should be restructured geopolitically for administrative convenience in order to foster socio-economic growth and healthy competition under the same umbrella and the federating states   paying royalty to the Federal Government.
I unequivocally advise the agitators to withdraw the quit notice and not to toe the line of their northern colleagues because two wrongs cannot make a right."
The Ibedaowei of Opokuma Kingdom, Bayelsa state, HRM, King Okpoitari Diongoli, stated:  "The quit notice issued by a Coalition of Niger Delta Agitators is just consistent with the on-going narratives on restructuring, ethnic tension and hate speeches in the country. It started with the IPOB proponents and the Biafra Republic agitators.
"While the Federal Government was yet to adequately respond to the Biafra question, the Arewa youths came up with the ill- tempered, ill-timed and miscalculated quit notice on the Igbo to vacate the North. Then the Oduduwa adherents joined the dangerous fray, which if not nipped in the bud has the potentials of driving Nigeria to avoidable precipice of disintegration.
"I had to give this historical account to connect a nexus between the on-going debate and the quit notice issued by the Niger Delta agitators, which can best be described as reactionary. It also serves as a constant reminder to the Nigerian state of some burning national issues, which include the questions of restructuring along regional lines, fiscal federalism, devolution of power and socio-political and economic injustices meted out against the people of the South-South in general and Niger Delta in particular," he said.
Similarly, the convener and coordinator, Niger Delta Peoples' Congress, NDPC, Chief Mike Loyibo, said: "The recent quit notice from the youths of Niger Delta is a reaction to an earlier one given to the Igbo by northern youths."
He, however, said: "Matters can be resolved only if we reason together. The recent statement credited to the Sultan that he was opposed to restructuring does not help matters and it should be noted that when the youths make statements, they are speaking for the silent elders."
Chairman, Civil Liberties Organization, CLO, Akwa Ibom state and human rights lawyer, Mr. Clifford Thomas, said, "I do not think the Niger Delta militant groups just got up and decided to give the quit notice. It must be in reaction to the quit notice by Arewa youths to the Igbo in  the north. They believe that when you are fighting the Igbo, you are also fighting people from the South- South  because they still remember what happened in the 60s that led to the civil war."
"It was not just the Igbo that were killed; so many people from the South- South  were also killed, so when you issue a threat to Igbo, it is also a threat to South- South. And there is no part of the country where you find an Igbo man that you will not find people from south- south. So I do not blame them for giving the ultimatum. But no matter how justified they are in their action, it will not help this country. The constitution of Nigeria says that every citizen has the right to live in any part of the country, do their business provided it is not something illegal," he said. .
Groups blame Buhari, Osinbajo
President, Homeland Chapter of Ijaw Professionals Association), Iniruo Wills    said "Issuing quit notices and counter quit notices cannot be the way forward, but the federal government is the cause of this undesirable and easily avoidable situation.  The federal government has displayed gross indifference and lack of imagination on how to profitably resolve the critical and existential issues of the Niger Delta and several other fundamental national challenges.
"But we strongly discourage the issuing of ultimatums against our neighbours and fellow countrymen, notwithstanding that this latest one seems like a tongue-in-cheek response to Ag. President Osinbajo's shocking inaction on the first ultimatum issued by a self-styled northern Nigerian youth group against Igbo and by extension southern Nigerians. Osinbajo needs to be reminded that leadership is about action and responsiveness, not about inertia," he said.
Founding Director, Ijaw Council for Human Rights, ICHR, Dr. Patterson Ogon , argued that "every phase of the Nigerian crisis takes on a different but related character. The action-oriented policy inertia of the present government has thrown up new challenges and more troubling conflict vibes. These include the inability to curb the menace of herdsmen, social injustice, rule of law etc.
How the government manages the demands of the people always informs the kind of outcomes we get. If it chooses to paper over the crack of a one indivisible united Nigeria, it will only birth a wave of unrest. We have read about quit notices from all the regions of the country issued to non- natives. It is a bad omen and has the potential of further endangering even the spirit of cooperation that we will enjoy if the government is open to a genuine restructuring of the Nigerian polity ," he said.
Restructuring is the answer
Contributing, national president of South -South Solidarity Forum, (SSSF) Dr. Bassey Umoh, asserted: "I am afraid that there may be more violent agitations if this country is not restructured.    Already we have so many groups from the different sections of this country agitating for one thing or another. And the only answer to the many agitations is restructuring/ true federalism."
"Also it was wrong for northern youths to ask another section to vacate their area because  Nigeria does not belong to them alone. So, the best way to manage people with different culture and mentality is to grant autonomy to the federating units or else I do not see an end to the agitations," he stressed.
Former Deputy Governor of Akwa Ibom state, Dr. Chris Ekpenyong, who also said the quit notice should be dropped, insisted: "They should insist on restructuring the country, we should reinvent Nigeria where states control the resources and only pay taxes to the federal government.  First and foremost we should establish who the owners of the oil blocs are, and which section of the country has the monopoly and total control of the oil blocs."
"What is paramount now is that resources of each state must be controlled by the states. We must go back to 1963 constitution. The amalgamation of  Nigeria by Lord Lugard took place in Ikot-Abasi but today, nobody remembers Ikot Abasi.
"We should practice true federalism; it will help to reduce tension in the country. The militants are aggrieved because people are exploiting their resources without themselves participating.  We as South-South are pained," he said.