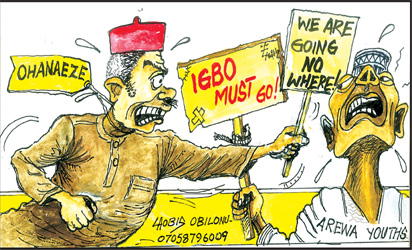 Igbo must go cartoon
By Chinedu Adonu
ENUGU—A body of Igbo leaders under the auspices of the South East Forum, SEF, has condemned in strong terms the production and circulation of derogatory and inciting songs against the Igbo.
Chairman of the group and former gubernatorial aspirant in Imo State, Dr. Ezekiel Izuogu, who addressed newsmen briefly after their meeting in Enugu, stated that the sponsors of the songs were against the existence of Nigeria, charging the Federaal Government to rise up to the task of tackling the situation in the interest of the nation.
"Recently, there have been some songs. Those who are circulating or sponsoring these songs to poison the minds of a particular people against Ndigbo or against any other part of the country are enemies of Nigeria.
"If you love Nigeria, don't circulate these songs. Anybody who is circulating them is an enemy of this country," he said.
Izuogu who re-echoed the call for total restructuring of the country, said that Igbos were against a unitary system of government currently practised in Nigeria, the same way the northern leaders opposed it under the six month leadership of Gen. Aguiyi Ironsi.
"We don't want a unitary government. We want a restructured federation. We want a federation where any state or group of states can move at their own pace with their own resources without interference from the Federal Government.
"That is what we are looking for. That is, articulating our situation in a country where individuals are free to discuss how they can coexist as a federation."
"A federation is like a marriage. There must be an agreement in that marriage. So those who are opposing restructuring are opposing one Nigeria.
"Ironsi did not even fight on the part Biafra, he came there as a Nigerian ideologue, he fought for Nigeria. The Northern leaders met and said he was running a unitary government and they opposed it. That is the unitary government that the Igbo are opposing today," Izuogu noted.
He  condemned the supremacist ideology exhibited by some sections of Nigeria,  stating that "Anybody who wants Nigerian to exist so that they will be a master and others are servants, the person is deceiving himself."