ABUJA—The Presidency yesterday criticised the Resume or Resign group, led by Charles Oputa, popularly kn own as Charly Boy for taking its protests to a sensitive area as Wuse Market, Abuja, describing it as ethnicised and selfish.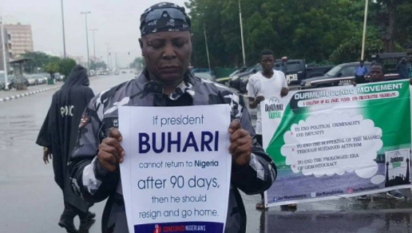 The protesters were attacked by persons believed to be supporters of President Muhammadu Buhari leading to injury to some including police officers who tried to maintain peace.
The market, the largest in Abuja, was subsequently shut down and was only reopened on Wednesday.
The Special Adviser to the President on Media and Publicity, Femi Adesina, addressed a pro-Buhari group from the Niger-Delta region which staged a separate rally in Abuja on Wednesday, to counter the #ResumeOrResign protesters.
The #ResumeOrResign protesters are calling for the resumption or resignation of the president.
President Buhari has been in London for medical treatment of an undisclosed ailment for 100 days
Dozens of pro-Buhari protesters gathered at the Unity Fountain at about 10 a.m. on Wednesday and concluded their rally with a solidarity march to the junction of Presidential Villa where they were received by the presidential media aide and his colleague, Garba Shehu.
The protesters were chanting 'Sai Baba Sai Baba' and were accompanied by security operatives down to the Presidential Villa where they demonstrated their support for Mr Buhari.
An inscription on one of the placards the protesters carried read 'Buhari Was Only Sick Not Corrupt.'
Adesina, while addressing the protesters on behalf of the Presidency, condemned the Wuse market protests.
When quizzed on why Mr. Oputa was attacked on Tuesday, he said what happened was an attempt to 'ethnicise the protest.'
"We are not for ethnic cleavages, we are for one Nigeria. Anybody that attempted to ethnicise protests failed. Because everyone has a right to protest and ethnicity is not something that should be introduced to protest.
"Taking a protest to the market in the first place was wrong, so whoever took the protest to the market place was the one that attempted to make it get out of hand," he added.
Adesina added that the presidency noticed that "some people have made efforts to create ethnic cleavages in the country but that what the people from the Niger Delta region did today has reinforced faith that Nigeria will remain one."
He said the message of his audience would be conveyed to Mr. Buhari.
"Just over the weekend we were with him in London and he told us that he has been following events at home very keenly. We want to thank you very much and urge you to keep this spirit of patriotism.
"This is our country, we have no other one. Whatever we make of it is what we get," Mr. Adesina added.