By Nwabueze Okonkwo
NATIONAL Chairman of the All Progressives Congress, APC, Chief John Odigie Oyegun has asked the Governor of Anambra State, Chief Willie Obiano, to start preparing his handover note to the in-coming APC governor in Anambra State.
Odigie-Oyegun who stated this in Awka, Anambra State capital while inaugurating the State chapter of the coalition of APC support groups, said the call became necessary because, nothing can save the state from not being taken over by the APC in the governorship election.
In a swift reaction, the Senior Special Adviser to the Governor on Political Matters, Hon. Arinzechukwu Awogu, described Odigie-Oyegun and his APC as day-dreamers, saying "an outsider does not have inheritance in another man's estate".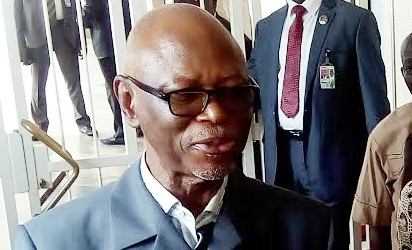 Represented by the deputy national chairman Coalition of APC support group South, Ambassador Mustapha Adeyawayu, the national chairman tasked the group to embark on immediate house- to-house mobilization exercise to convince the Anambra electorate on the need to vote for APC and return the state to the party at the centre.
He said: "I charge you as coalition group to work as a team and ensure that you leave no stone unturned to bring more people to join the party in your various wards and local government areas. We are confident that APC is going to win the Anambra election come November 18 and all hands must be on deck to ensure that APC sweep the polls."
In his speech, the newly inaugurated chairman of the group, Comrade Onyebuchi Francis Osakwe, thanked the national executive of the coalition of APC support group for their perseverance, total commitment and resolve to give them the opportunity to serve, promising that the group will do everything within their powers to ensure that they mobilize Anambra electorates to enable APC over-run any other political party in the election.
Dismissing the threat, Obiano's aide, Awogu said, "We know that their stock-in-trade is to rig the election because any party that is prepared for the polls cannot talk in that manner. But we are waiting for them."
Awogu further declared: " This is Anambra State and not Edo or Ondo. We are fully waiting for them. Let them come and we will show them that there is no landing place for them here in Anambra."