By Joseph Undu
LAGOS—Operatives of Rapid Response Squad, RRS, Lagos State Police Command, weekend, recovered a bag abandoned by three young men in Apapa area of the state and found an AK-47 rifle in it.
The operatives, who were on a routine patrol of the area, had reportedly sighted the young men around 11a.m., carrying a bag. But it was gathered that the men hurriedly abandoned the bag and took to their heels upon sighting the operatives.
According to Police source, "the officers accosted the men, who dropped the bag and fled the scene. A check revealed an AK-47 with no ammunition in the bag."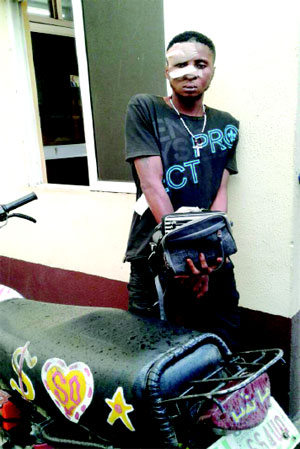 … nab bag snatcher
Vanguard gathered that the operatives have also arrested a 23-year-old robbery suspect, named Ayobami, who specialises in snatching bags.
The suspected robber, Vanguard learned, was chased by the operatives on routine patrol of Kola Bus Stop, in Alagbado Area of Lagos, after snatching a hand bag at 10p.m.
According to the source, "Adedeji, in company of an accomplice, who he simply identified as Aboki, had on Monday night, operating on a motorcycle, snatched the hand bag of one Kudirat Oyebade at Kola Bus Stop.
"The operatives, who were close to the scene of the incident, chased the motorcycle into the inner streets. One of the suspects was, however, arrested while the rider escaped abandoning his motorcycle."
Confession
In his confessional statement to the police, Adedeji said: "I was a bus conductor. I went to Kotangoa Market on Monday to meet Aboki on how to raise money for ourselves.
"We have been together for a long time. At around 2p.m. on Monday, we perfected the plan to operate together on Lagos-Abeokuta Expressway, but our focus were Adura and Council Bus Stops around Agbado areas. Our priorities were handbags and purses.
"We had snatched two bags and my colleague was keeping the money before our last botched operation. This was our first time.
"Unfortunately for me, I didn't know Rapid Response Squad's operatives were monitoring us. When I snatched the bag, they chased us into the streets. My colleague escaped after abandoning his motorcycle and I was arrested.
"I dropped out in SS1 after losing my mother. My father was just a ceremonial father. He never cared about me since the death of my mother. He never assisted me, but I had to fend for myself after the death of my mother."
Vanguard gathered that the rifle has been deposited at the RRS Headquarters for further investigation, while Adedeji has been transferred to the State Criminal Investigation and Intelligence Department, SCIID, Panti, for further investigations.