Abuja – Gov. Abdullahi Ganduje of Kano State, has charged the media in Nigeria to continue to play their role as watchdog of society for the strengthening of democracy.
Ganduje gave the charge at a meeting with the management of the News Agency of Nigeria (NAN) in Abuja on Friday.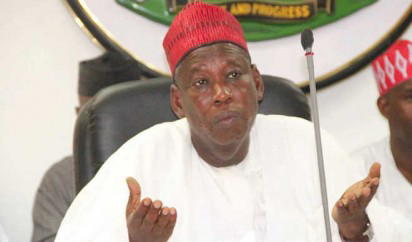 He said that the media had the responsibility of setting agenda and upholding virtues of good governance and transparency.
According to the governor, such has been the worthy contribution of the media to the nation since independence.
"When you partner the media as a leader, the society as a whole benefits and your laudable achievements are showcased for posterity.
"NAN is now a multi-media outfit that the state wants to partner with. That partnership is a win-win one, because our achievement will reach far and wide on different platforms of communication," he said.
Earlier, the Managing Director of NAN, Mr Bayo Onanuga, had said that Kano state had set a record of being a pioneer in establishing an anti-corruption agency, apart from that of the Federal Government.
He said that such was an indication of the priority that the Ganduje administration placed on good governance, transparency and probity.
"I will like to commend you for putting in place an anti-corruption agency. The action was in solidarity with the central government to rid the society of the evil that has dwindled development for many years.
"The News Agency of Nigeria will identify with you and any other state that strives to put in place people-oriented policies and programmes like you have done in Kano state," Onanuga said.
The Editor-in-Chief of NAN, Malam Yusuf Zango; Managing Editor, Mr Idris Abdulrahman; Mr Mohammed Momoh, Special Assistant (Special Duties) accompanied Onanuga to the meeting.
Others in the entourage were Head of Administration and Human Resources, Mr Ibrahim Khaleil and Mr Biola Lawal, Acting Director, Marketing. (NAN)