..Accuses IPOB leader of disobeying bail conditions
By Vincent Ujumadu
THE Federal Government has asked a Federal High Court in Abuja to revoke the bail of the leader of Indigenous People of Biafra, IPOB, Mr. Nnamdi Kanu for disobedience of court orders.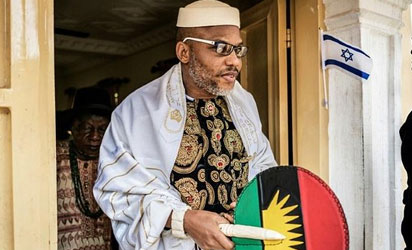 It also called for the arrest and detention of Kanu pending the determination of the charge against him.
A statement by the Attorney General of the Federation, Abubakar Malami, which was signed by his Special Assistant, Mr. Salihu Isah, yesterday, listed various grounds which necessitated the call for Kanu's arrest.
The government in an application which had the name of the Lead Prosecuting Counsel, Mr. Shuaibu Labaran sought an order to revoke the bail granted to Kanu on April 25, 2017.
According to the government, Kanu had in furtherance to the offence he was charged, inaugurated Biafra Security Service adding that such an act was a grave threat to national security and unity of Nigeria.
An affidavit deposed to by Loveme Odubo, a litigation clerk in the Ministry of Justice, claimed that Kanu held a rally at his residence in his hometown, Afara-UkwuIbeku in Umuahia, Abia.
It further said the rally, which had a crowd exceeding 10 persons, was captured in a video published on June 1, 2017, and circulated around the country through internet platforms.
He further deposed that the bail granted Kanu was to enable him to take care of his health, adding that it was not for any other purpose.
In a written address attached to the application, the government urged the court to determine whether the defendant violated the bail conditions set by the court to warrant the revocation of same.