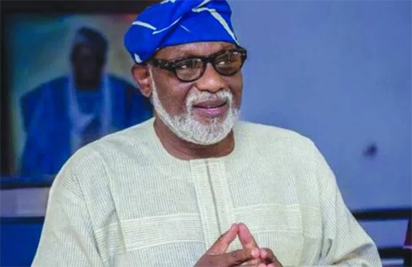 Ondo State governor, Rotimi Akeredolu
By Dayo Johnson
Akure—DESIROUS to curtail worrisome activities of herdsmen across the state, the Ondo State government yesterday said an anti-grazing law is in the works.
Reports of killings, destruction of farmlands and rape abound across the state.
Last week, a farmer, Orimisan Balogun, was hacked to death by rampaging herdsmen in Ore area of the state for disallowing their cows from grazing on his farm.
The State government yesterday expressed deep concern over the menace of the herdsmen and was determined to halt it.
The Senior Special Assistant to Ondo state governor on agriculture, Mr.  Akin Olotu lamented the loss of innocent lives, destruction of farmlands, rape of women and young girls
Olotu said four persons were killed across the state within the last three weeks by the herdsmen.
Apart from this, Olotu said about 10 hectares of cassava farmland were destroyed by the herdsmen and their cattle in Owo area of the state alone, while some of the farmers were seriously injured during the attack.
According to him the activities of the herdsmen cut across the state.
"The state government is worried about this development. Though the herdsmen are doing their business but they have been using their business to destroy other people's businesses.
"The destruction of farmlands has been a source of concerns to farmers in the state while those who are just embracing farming as a source of livelihood have been discouraged.
"Farmers have lost a lot of money to these destructions, obtaining loans from bank to finance the projects without making profit because of the herdsmen and their cattle. Farm produce cannot be stored in the barn any longer.
Olotu explained that ponds and apiary worth millions of Naira were destroyed by herdsmen's  cattle with the fishes stolen and the honey-combs equally harvested.
He however said the state government is proposing anti grazing bill to stem the menace of the herdsmen while all herdsmen operating in the state and their cows would be registered with codes for identification.
Olotu, who advocated for the modern method of rearing cattle in the country called on security agencies and stakeholders to find a lasting solution to the frequent clashes between the herdsmen and farmers in the state.
Farmers in Ore town took to the streets last week over the killing of Balogun and threatened to take laws into their hands if government failed to protect them.