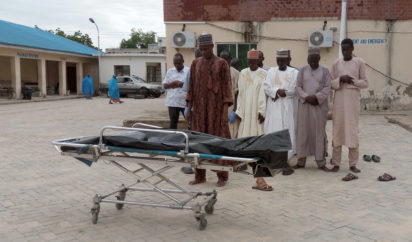 People pray over the body of a victim in the grounds of the State Specialist Hospital in Maiduguri, northeastern Nigeria on July 29, 2017 the day after two suicide bombers struck a camp for displaced people in Dikwa, 90 kilometres (56 miles) east of Maiduguri, killing five. Civilian militia member Babakura Kolo said the attackers disguised themselves as traders wanting to buy grain. / AFP PHOTO
Lagos – A new Family Planning Clinic has been established by the Nigerian Urban Reproductive Health Initiative 2 (NURHI) at Okokomaiko Primary Health Centre, Iba Local Council Development Area (LCDA), Lagos, to improve health services.
The News Agency of Nigeria (NAN) reports that NURHI is funded by the Bill and Melinda Gates Foundation to improve on reproductive health, especially family planning.
The family planning unit at Okokomaiko PHC is one of the 50 selected PHCs and hospitals in Lagos State under the NURHI 2 "72-hour Family Planning Clinic Make-Over'' Project.
The effort is geared toward reducing the high rate of maternal, infant and child mortality in Lagos State through the up-take of family planning.
Speaking to the News Agency of Nigeria (NAN) at the clinic's inauguration, Wale Haastrup, Senior Programme Officer, Advocacy, NURHI, Lagos State, said: "NURHI promotes the use of family planning in the communities where we work.
"For us to promote the use of family planning services, we have to upgrade these facilities to the basic standards that they should be.
"In so doing, the providers will be able to deliver optimal quality services to clients and patients.
"NURHI's concept of 72-hour make-over is targeted at 50 health facilities where we are working; we are in the process of getting additional 50 facilities.
"So, we go in on Friday and complete work on the facility to be open for use on Monday; the idea is for family planning service commodities to be readily available in communities.''
He added: "We also know that if a facility is not user-friendly, people will not access it.
"The Federal Government said that family planning should be free at all levels but when the facilities do not have the right equipment to help provide these services, it will affect choices and quality delivery.
"So, NURHI has provided these commodities and equipment to facilitate all necessary services for those who want them,'' Haastrup said.
According to him, family planning or child birth spacing (CBS) has many benefits.
" Family Planning is beneficial to mother, children, father and the family as a whole.
"Spacing a child through family planning methods helps the mother to regain her health after delivery; it also gives the woman the opportunity to love and give attention to her husband and children.
" Family Panning is also an important intervention strategy to avert maternal, infant and child deaths.
"It reduces maternal mortality by reducing the number of unintended pregnancies, the number of abortions and the proportion of high risk births,'' he said.
The Chairman of Iba LCDA, Ramota Oseni, commended NURHI for the gesture.
Oseni, represented by Hon. Isiaka Yaya, Vice-Chairman, Iba LCDA, said: "Government cannot do it alone and that is why we are happy with NURHI 2's initiative.
"We have seven PHCs in Iba LCDA, but the one at Iba Local Government headquarters is where most people go to.
"With the remodeling of this PHC, especially the family planning section, our people will be coming here; this will decongest the number of people going to Iba.
"We need more of this kind of initiatives and commitment from necessary stakeholders in the health sector,'' Oseni said.
Speaking on behalf of the community, Chief Wahabi Eletu, the "Baale'' of Okokomaiko, said there was need to intensify awareness on the benefits of family planning.
According to him, there is need for increased government's presence in the community to facilitate growth and development.
The community leader said that the people would be committed to ensuring that the unit was sustained and people were mobilised and encouraged to use the family planning services. (NAN)