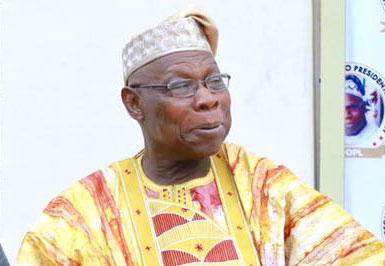 Olusegun Obasanjo
Former President Olusegun Obasanjo on Saturday at Apostolic Faith Church said that Christians should be prepared for the Second Coming of Jesus Christ as the end of the world is near.
Obasanjo made this remark during the 2017 Camp Meeting Concert by Apostolic Faith Church Choir and Orchestral at the Camp Ground Igbesa in Ogun.
He said that as a person, he would like to make it to heaven so as to sing with the angels.
"You have to be fully prepared for the second coming of our Lord, there is no compromise.
"I have a friend who will always say that when we get to heaven that we will be exhausted praising God and it will be like a prison and will be very boring.
"But what I have seen this afternoon by the choir, I will want to go to heaven and join the hosts to sing.
"If this is an example of what praising God in heaven will be, then I want to be part of it. If what I have seen here is an indication of how heaven will be, I will like go to heaven.
"Jesus Christ came to the world to show us the way to salvation and eternal life. We have a good heritage and we have everything to be proud of," he said.
Obasanjo said that God could not fix Nigeria except Nigerians invite God into their lives collectively and individually.
"We have a lot of things wrong with this country, if all Nigerians are sincere.
"Nigeria can be fixed by God but we have to invite Him into our lives. What we have to do about this country is in our hands.
"God's grace abounds when we do not abuse it," he said.
The District Superintendent, Apostolic Faith, West Africa, Rev. Adebayo Adeniran, said that only tolerance, peaceful coexistence and harmonious living amongst Nigerians , irrespective of religious and political differences, could lead to meaningful development.
He said that all hands must be on deck to build again a virile nation, where love and harmony, forgiveness and peace, equity and prosperity would reign supreme.
"Our country's shoulders will be raised high among the comity of nations. All Nigerians , irrespective of religion , should pray for the resurrection of what our nation has lost.
"Nigerians should remain patient in the face of political and religious intolerance, insecurity and economic hardships. God will make us triumph over all of them," he said.
He also urged Christians to pray for the country's leaders to lead the citizens with the fear of God.
"We should pray for fresh outpouring of Holy Spirit on our leaders so that they can lead us aright .We must not trade the unity of our nation.
"Therefore, as a nation, those who have responsibility for our nation should ensure there is true federation; they must establish trust among the leaders and the led, they must work for the unity of our country, " he added.