Police Inspector General Ibrahim Idris during a working visit to The Nation's corporate headquarters in Lagos on Friday explicated why he has not arrested Indigenous People of Biafra (IPOB) leader Nnamdi Kanu and Arewa Youth Consultative Forum (AYCF) leaders like Shettima Yerima for inciting and for inflammatory comments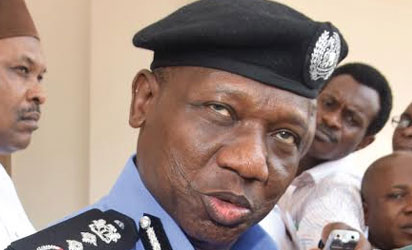 The IGP who also vowed that kidnapping and similar crimes would be eliminated within a year said police officers have been strengthened and their morale boosted to combat crimes.
He said 'We have strengthened our officers and boosted their morale in combating crimes,' he said.
Haling Nigerians for assisting the police in combatting crimes he said: 'Evans terrorized people in this country for many years but now we have the notorious kidnapper in our custody.
'The police deserve some credit from the public. Give me up to a year, I assure you that Nigerians would see a different police working to ensure their safety in every nook and cranny of this country.
'When this kidnapping crime was unbearable on Kaduna-Abuja highway, I went to the National Assembly and I told the lawmakers to give me a week. Within five days, our men arrested 58 suspects, who confessed to the crimes.
'More of the suspects were arrested and paraded on Thursday, bringing the total to 77. All we want from the public is support. The police require support and encouragement, because we are human beings too.''
He went further to say: 'We cannot blame the police for the causes of crime. As I speak to you now, I can confirm that we have over a thousand suspects in detention for kidnapping and ritual killings.
'Then, we should ask why we still have these crimes when we have dozens of suspects? I think we should focus on the causes of crimes and its symptoms, not the agents of reaction.
'We have plans to develop the marine police. We are going to dominate the riverine areas.
'When I became the IGP, the first state I visited was Delta State, precisely Tompolo's hometown. I discovered that our presence on the creeks was minimal. I believe we can succeed in dominating the creeks if we have certain things put in place.
'We need to train more marine police officers with modern techniques and gadgets. We need to buy more patrol gunboats and we are making progress in this respect. Already, we got offer to train about 100 policemen in marine security and a promise of 10 gunboats.
'By the time we get this done, we are going to start deployment from Lagos because of the rate of crime in riverine communities.
"We have been making efforts to secure these riverine communities from militants. This progress is achieved due to the activities of the marine police. We are training the marine police to perform better. We are liaising with the Navy in the training of our marine officers. We are going to train more officers in continuous succession."
On why Biafra agitator, Nnamdi Kanu and the President, Arewa Youth Consultative Forum (AYCF) Shettima Yerima have not being arrested he said: "We have the National Security Council in place chaired by the Acting President. We have been meeting and analyzing each of these threat messages from separatist groups. We have to analyse the pros and cons. As you are aware, the police are on top of the situation.
"As an organisation, what we take as paramount is the maintenance of law and order. There was a time we ordered the arrest of the leaders of groups making threat messages. Then, leaders of various ethnic nationalities came to the villa for a meeting with the Acting President.
"The agreements reached at the meeting made the police to relax on the arrest order. We believe there are certain situations needed to be managed very carefully, so that you don't bring up tension. We believe the security and safety of Nigerians is paramount. We are assuring Nigerians that there is no person or group of persons that can deny them their rights to free movement in any part of the country."