We must translate our potential to reality — Gambari
We need a new constitution – Omole
By Providence Emmanuel
Lagos—There was a critical assessment of the state of the nation  yesterday, with former Commonwealth Secretary General, Chief Emeka Anyaoku and former Nigeria Permanent Representative to the United Nations, Professor Ibrahim Gambari, with both expressing grave concerns at development in the country.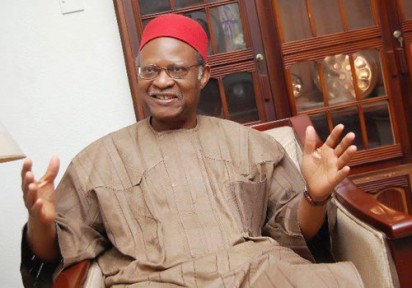 While Anyaoku said that Nigeria was sleep-walking to national disaster, Gambari said it is time for the nation to translate her potential to reality.
According to Anyaoku, the current leadership of the country seems to be indifferent to the fact that Nigeria is sleep-walking to a national disaster, recommending that the country fix its domestic issues towards returning to the global age of foreign policy achievements and high global standards.
Also, former Nigerian Permanent Representative to the United Nations, Prof. Ibrahim Gambari, said it is time Nigeria translated her potential into reality, earning its place as a leading country in the African nation even as the former Vice-Chancellor of the Obafemi Awolowo University,  Prof.  Wale Omole maintained that the country needs a new constitution.
They spoke at the Akintola Williams Foundation (AWF) 2nd Annual Lecture with the theme: "Re-establishing Nigeria's Leadership Position in the World."
Anyaoku, in his recommendations of what should be done if Nigeria is to return to a leadership position in international affairs, said that for every country, there is a nexus between foreign policy and domestic policy, adding: "No country can maintain a credible leadership position regionally or globally without a politically stable and sound socio-economic domestic background and so for any country to be able to exert credible influence and maintain a leadership position to be reckoned with anywhere, it must achieve a reasonable balance between its domestic and foreign policies.
"To achieve greater political stability and deserving socio economic development in the country, Nigeria must restructure its present governance as it where and must do so by returning to true federalism which our founding fathers negotiated and wisely agreed in the 1960, 1963 constitution to be the most suitable structure for stability and development of our multi ethnic and multi religious country.
"With the nature and structure of the ongoing agitations in several parts of the country, our present leadership, including especially the senate, which two weeks ago rejected the motion for devolution of powers. Our present leadership seems to be indifferent to the fact that Nigeria is currently sleep walking to a national disaster, restructuring will enable us create fewer and more viable federating units for economic development
According to Gambari, "We have got the riches both material and human, we have to stop being potential. We have to realize our potentialities and earn the position of the leading African nation and one of the most important countries in the world."
"Nigeria's hope for re-establishing and sustaining its leadership in Africa and the world depends on five critical factors. First, and quite elementary, charity begins at home. We cannot preach abroad what we do not practice at home."
Subscribe for latest Videos