President Robert Mugabe of Zimbabwe on Monday repeated his call for the nation to uphold peace ahead of polls in 2018.
In an address to mark this year's Heroes Day at the National Heroes Acre in the capital Harare, the veteran leader said peace and calm creates a conducive environment for national development.
"We hope the elections will be done in peace. We need peace within our party, we need peace between our party and other parties and we need national peace in the country," Mugabe said.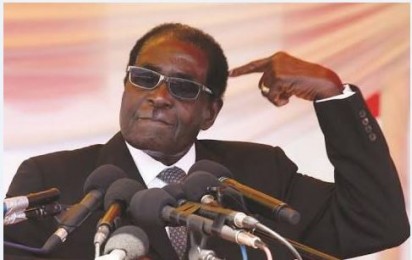 Mugabe, 93, will seek re-election for his second and final term after his ruling ZANU-PF party endorsed him as its presidential candidate for the 2018 polls.
He thanked the country's defence forces for maintaining peace and security in the country and called on them to remain united and avoid fighting each other.
He spoke after members of the national army recently went on the rampage and indiscriminately beat up members of the police force on the streets of Harare ostensibly to revenge against the crime of a police officer who had thrown spikes at the vehicle of a member of the national army.
Mugabe said a disunited security forces will not be able to defend the country.
"In the forces that we have, there are some elements that are beginning to get out of control. That incident when a few soldiers took to the streets and beat up policemen is regrettable.
"I discussed it with the commanders and asked that they talk about it and try to prevent its recurrence," Mugabe said.
Soldiers in Zimbabwe once rioted in Harare in 2008 after failing to withdraw their money from banks during the hyperinflation period.
On Feb. 17, Mugabe's wife Grace, warned those aspiring to take over from her husband that there is no vacancy at the state house before God ordains his husband's retirement.
Speaking at a rally in Buhera North, Manicaland Province, the first lady lashed out at perceived factionalists and 'successionists' in the ruling Zanu-PF party.
Mugabe's tenure as party leader ends in 2019, but the party in 2014 had endorsed him as its presidential candidate for the 2018 elections.
"Whoever is engaging in factionalism must stop forthwith, stop it,'' she bellowed to thousands of people that included school children.
Vice-President Emmerson Mnangagwa is seen as the face of "successionist'' politics but he has since denied harboring ambitions to take over from Mugabe before his tenure ends.
The first lady challenged the "successionists'' to self-introspect to determine whether they possess leadership qualities and are able to emulate her husband.
She added that her husband was irreplaceable and even if he contested the election as a corpse the people would vote for him.
"When God finally decides that he should leave office, then you can also enter the fray (Until the moment) there's no vacancy,'' she said.
Mugabe, who has been in power since Zimbabwe gained independence from Britain in 1980, is the world's oldest leader.
The first lady also donated food, clothes, laptops and exercise books to the gathering in her first leg of tours to drum up support for her husband in the 2018 general elections.