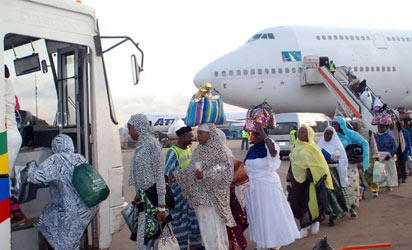 The last batch of 2011 pilgrims to Saudi Arabia by Med-View carrier arrived the Murtala Muhammed International Airport, Ikeja, Lagos recently.
*Vanguard in Prophet's city
By Ishola Balogun, Reporting from Madinah.
Pilgrims from Lagos State who were on the first flight to Saudi Arabia left the city of Madinah to Makkah Monday 14th of August, 2017 in preparation for the Hajj rites.
The pilgrims numbering four hundred and sixty (460) were the first batch of pilgrims airlifted to Jeddah, Saudi Arabia last Sunday from where they were transported by road to Madinah last week. The journey back to Makkah will take eight hours by road.
Other pilgrims who have not completed their various visitations will remain in Madinah.
Vanguard's Islam Editor, is presently in Madinah observing the ziyarah rites.
While they were in Madinah, they performed numerous spiritual activities such as visitation to Prophet Muhammad's tomb, and that of his Caliphs (Abubakar, Umar, Uthman and Ali).
They have also visited historic places such as Masjid Quba where each supererogatory prayer offered is said to be equivalent to lesser Hajj, Masjid Qiblataen (the Mosque with two Prayer directions), Mount Hud among other notable sites.
Lagos State Commissioner for Home Affairs and the State Amirul Hajj, Dr Abdulhakeem Abdullateef in a statement by his Media Assistant, Olalekan Murisiku said, "Every pilgrim is expected to be in Madinah for eight days before going to Makkah. The movement from Madinah to Makkah is also going to be in batches for convenience"
Meanwhile, some of the pilgrims who spoke to Vanguard said they had a spiritually fulfilled time in Madinah, adding that "it is a place every Muslim would always love to visit."
Apart from the saying of the Prophet that "There is a cure for every disease in the dust of Madinah" (Al-Targhib), the beauty of Madinah, with its uncommon magnificent architectural masterpiece makes it top tourists 'attraction in the Kingdom of Saudi Arabia.
To visit to Madinah is not a Hajj or Umrah rite, but the unique merits of the Prophet city, his Mosque and his sacred tomb attract every pilgrim to visit it. There is neither Ihram (white garment) nor talbiyah for the visit to Madinah or the Prophet Mosque.