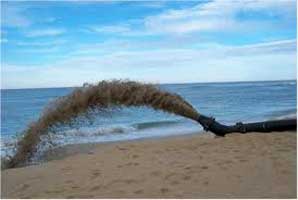 Sand dredgers on the river Niger
By Innocent Anaba
Pan-Yoruba socio-political organisation, Afenifere; Yoruba Renaissance Group and Coalition Against Corrupt Leaders, CACOL, have flayed recent directive issued by the Federal Ministry of Mines and Steel Development headed by Dr. Kayode Fayemi calling on sand dredgers in Lagos state to ignore the stop work order issued by the Lagos State Government.
Faulting the ministry's directive, Afenifere's National Publicity Secretary, Mr. Yinka Odumakin; CACOL chairman, Mr. Debo Adeniran and Yoruba Renaissance Group said the move is not only an open incitement against the state government but a clear variance to a ruling by a court of law.
They said it runs against the grain of true, fiscal federalism and restructuring which millions of Nigerians have been clamouring for.
Odumakin said: "First, I would blame the ministry for such directives because of its dire implications on the rule of law and conformity. The contractors involved were citizens of the country and it does not sound proper for any organ of government to encourage its citizens to disobey the court order, this is based on the fact that Lagos government got the Appeal Court verdict. If the ministry, for whatever reason was displeased, there are procedures to follow and not necessarily ordering the contractors to continue work."
Also, Mr Adeniran flayed the ministry, saying, "Its directives to the contractors could lead to anarchy."
On its part, the Yoruba Renaissance Group said the directive "is not incredible and outrageous coming from an All Progressives Congress, APC politician nominated to serve the interest of his Ekiti people and indeed, the entire South-West geo-political zone. In fact, the flaring statement is capable of causing bad blood between the state and the dredgers and diametrically opposed to what the Minister pledged to the state back in January, 2016."
In a statement by its President and secretary Messrs Segun Akinbola and Tajudeen Soyombo respectively, the Yoruba group called on the Acting President, Prof Yemi Osinbajo to call Fayemi to order.
The statement reads: "That is one of the points I have tried to emphasise about governance when people talk about the exclusivity of the mineral rights in the Nigerian constitution. Yes, it is exclusive; but there is absolutely nothing in the law; in fact, it is being encouraged in the law for states to either set up their own investment corporations or go into partnership with the private sector in order to exploit what is available to them in their states.
"The recent judgement ceding the power of Lagos territorial waters to the state is in tandem with the ethos and ethics of true federalism. That is why it is being hailed by all progressive minds within the country and beyond."