Kenya's President Uhuru Kenyatta on Monday (August 14) reiterated an appeal for the opposition to shun violence and take any complaints to court, as opposition leader Raila Odinga refused to concede defeat and said the whole vote had been rigged.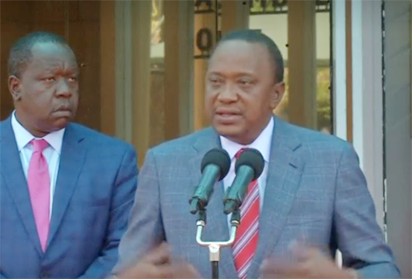 The election commission on Friday (August 11) declared Kenyatta the winner of the presidential poll by 1.4 million votes. International observers said Tuesday's (August 8) vote was largely fair and a parallel tally by domestic monitors supported the outcome.
But protests have erupted in areas of Nairobi and Kisumu, where Odinga has strong support. The Kenya Red Cross said on Monday it had treated 177 people, of whom 108 had serious injuries, since the election.
Addressing the media in Nairobi, Kenyatta said "To our friends who are yet to accept the outcome, we continue to appeal to them that we have extended our arm and a hand of peace and a hand of friendship and for them to use whatever legal mechanism that have been created by our wonderful constitution to express their dissatisfaction. But I truly believe there is no single Kenyan anywhere who wants to continue to see violence, looting and demonstrations that end up destroying property. But if, like I said, there are those who are aggrieved and feel that they are not willing to accept, there are also constitutions laid down procedures that they can use to be able to express their dissatisfaction while allowing the many millions of Kenyans who wish to continue with their normal lives to do so."
Kenyatta also urged police to exercise restraint. A Kenyan human rights group said on Saturday (August 12) that 24 people had been shot dead by police since election day but the government put the number of dead at ten.
Odinga called on Sunday (August 13) for a strike to support his claim to the presidency and accused the ruling party of "spilling the blood of innocent people" as he brushed off growing pressure to concede election defeat.
Kenyans largely ignored Odinga's call to go on strike on Monday, re-opening shops and returning to work as they shrugged off demands for demonstrations against Kenyatta's re-election and against the killing of protesters.
REUTERS