By Emma Amaize
UDU- THE Urhobo Youth Leaders Association, UYLA, in Delta State, Thursday, distanced the group from the quit notice issued Northerners and Yoruba, last Thursday, to vacate the Niger Delta region before October 1, saying the 'so-called' agitators, who issued the illegal notice under the aegis Coalition of Niger Delta Agitators, CNDA, were miscreants.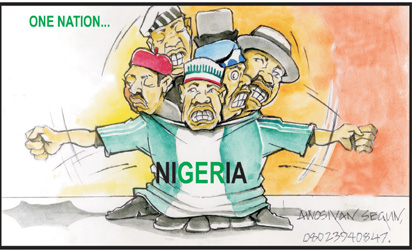 Spokesperson of the association, Terryson Orhiunu, in a statement, asserted: "On the issue of the quick notice given to Northerners and Yoruba by some Niger Delta miscreants, we of Urhobo Youths Leadership Association disassociate ourselves from the faceless group, our area is open for everybody to do business and all we want is equity and justices in the Nigeria affairs."
UYLA also called on the federal government "to speedily implement the demands of the Pan Niger Delta Forum, PANDEF, by setting up the dialogue team to quickly resolve the Niger Delta problems."
"We must be involved in the exploration and exploitation of oil and gas business in our land, not the situation where those who do not have a drop of oil in their domain are now the ones determining all that is happening in the oil and gas industry," it added.
The Urhobo group frowned at a recent publication by a self-styled APC leader in the state, criticizing PANDEF, saying the politician, who it accused of seeking cheap popularity was mischievous.
"We at Urhobo Youth Leaders Association do not see PANDEF as a political organization, it is a regional organization genuinely advocating the wellbeing of the all Niger Deltans and all ethnic groups are carried along in its activities.
"We do not know the favour the self-acclaimed APC leader, who could not deliver his polling unit is seeking from his sponsors, but he is known to be anti-Niger Delta and should leave PANDEF alone," the group maintained.