…Wants the agitators investigated
By Vincent Ujumadu
A GROUP of legal practitioners under the aegis of Anambra State Lawyers in Defence of Democracy, ASLADD, has urged the federal government to commence the investigation of the activities of the Indigenous People of Biafra, IPOB, without further delay, before the organization plunges the country into another civil war.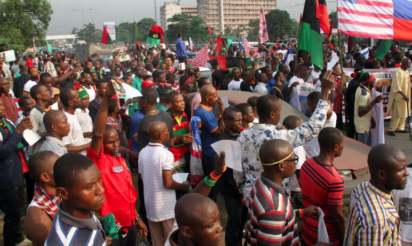 The group was reacting to an attack on it by IPOB, where it described members of ASLADD as faceless and nonexistent.
Angered by IPOB's comment, the lawyers said it was rather unfortunate that Mazi Nnamdi Kanu, who was a huge beneficiary of their legal prowess and professional benevolence, could turn around and accuse the noble body of being responsible for the Ekwulobia crisis, where IPOB members allegedly disrupted a church service where Governor Willie Obiano was worshipping.
Convener of ASLADD, Mr. Johnmary Jideofor, who was among Kanu's lawyers when he was in detention at Kuje Prison, in a statement yesterday, also reminded Kanu of the futility of his attempt at truncating Anambra election.
Jideofor said: "Kanu should know that this is an election where he has no legitimate interest in whatever becomes the outcome of that democratic exercise. "In our considered view, his home state Abia, with deep humility and respect, needs more help to rescue her from dilapidated infrastructures than our dear Anambra State that currently shines the light in most indices of governance.
"All the madness being orchestrated by Mazi Nnamdi Kanu is ultimately aimed at possibly setting the polity ablaze, using the fuel of hate and intimidating speeches, in the phantom hope that the weighty criminal charges hanging on his neck would drown in the ensuing melee.
"In achieving this devious intention, which is a mere fishing expedition in the desert, Nnamdi Kanu would not mind using as many uninformed and less-privileged compatriots as are available as his canon-fodders.
"We are compelled to state for the umpteenth time that we shall never fold our alms and watch Nnamdi Kanu pull our sacred constitution apart, pollute the system with rotten speeches of putrid hatred, acrimonious vituperations and denigrating venoms while pouring acerbic expletives on the foundations of our democracy in a manner that is capable of bringing an organized society to a perilous end."
"Kanu should be rest assured that if we could use our legal arsenal to rescue him from the Kuje gulag after waging a very deadly and fierce legal battle on his behalf against the Federal Government of Nigeria, amidst all odds, we equally have more than what it takes in our legal armoury to decisively end his impunity and defend democracy from his tyranny, imposition and buffoonery in Anambra State, which is our primary constituency."
According to Jideofor, participating in an election was purely discretionary on the part of the citizens, adding that his group would never accept a situation where Nnamdi Kanu's IPOB was deploying violent means to scare law-abiding Anambrarians away from the polls.
While alleging that Kanu had repeatedly issued assassination threats to him, he called on the relevant authorities to urgently commence a high-powered clinical investigation into the activities of the IPOB.
He said further: "Biafra is a sacred ideology which is not commodious enough to admit acts of outlawry, criminal intimidations and charlatanism under its canopied ambience.
"We find it so unfortunate and discomforting that the conduct of Mazi Nnamdi Kanu has forced us to address him in the very words we addressed President Muhammed Buhari when we wrote him on the 6th  of January, 2016, condemning his refusal to free Mazi Nnamdi Kanu, despite an existing court order.
"How time flies! The same impunity and disobedience of court order levied against our president last year is what Mazi Nnamdi Kanu is gleefully practicing today. If Mazi Nnamdi  Kanu had obeyed the ruling of the court anchoring his bail to many conditions, most of which he has violated even though he earlier agreed to them, the Ekwulobia tragedy would not have occurred.
"It was in the process of disobeying the court order banning him from organizing and/or attending rallies that Ekwulobia tragedy eventuated. Mazi Nnamdi Kanu, his IPOB and the whole world can now see where the culpability of Ekwulobia tragedy lies."