By ROTIMI AGBANA
As a United Nations Youth Ambassador, superstar comedian, Francis Agoda, known popularly as I Go Dye wasn't missing in action in celebration of the International Youth Day which held on Saturday, August 24, 2017 worldwide. In his unique style as a social commentator, the Delta State-born humour merchant penned an exhaustive open letter, titled " Sustaining Peace, Logic and Reason without Gun," to the Federal Government, the elites of the country, politicians and the youths in general.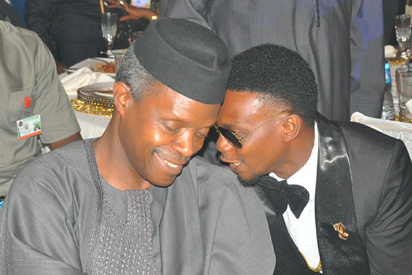 In the letter which is made available to Vanguard, the comedian observed that many of the our youths have lost hope, patriotism, due to hardship and the failure of government to provide some of the basic amenities needed to function productively. He pleaded for national sacrifice from every stratum of the society, noting that the burden upon the federal government of Nigeria is so demanding and seriously aggravated by increased agitations across all regions.
"To solve these problems, government should advance its commitment to make life more meaningful to her citizens'; this is the first priority towards restructuring the nation and solving the immediate agitations. Every day, different groups and individuals keep seeking the line of division, which has kept us stagnant and retrogressive as a nation," he said.
Speaking on the amnesty programme, he said, "the amnesty program in the Niger delta has been a temporary success, there is a great need to develop a more comprehensive plan that will guarantee the growth and self resourcefulness of all the youths across Nigeria.
We cannot continue to expand the responsibilities on our military because of internal problems, considering the achievement recorded by the military in recent times, in the fight against terrorism which is highly commendable. For how long shall the youths be the ones fighting themselves through different mediums, either as militants or insurgents fighting' against the military, an institution that is also filled with youths who have pledged under oath to defend our sovereignty as a Nation.
All the youths in this country are one, by virtue of the hardship they face and they should not allow themselves to be used as instruments of violence.
Itemising issues which are dragging the country into stagnation I Go Dye, Identifies the following: power tussle among ethnic groups; cost of doing business in the country; epileptic electricity; corruption; unemployment and many more.
Proffering solutions to problems besetting the country, I Go Dye prescribes that the federal government should invest more in human resources in each region, most especially the south east and north east, which are facing the highest conflicts of interest at the moment.
"They should be reoriented and empowered, while the people in Niger Delta should also be educated to invest in other areas and see beyond oil. We fight over crude oil and forget a simple reality that four litres of palm oil is presently been sold at three thousand naira while four litres of fuel is sold at five hundred and eighty naira, which is almost six times lower than the value of palm oil. So the people of Niger delta who are also blessed with palm oil should be informed that a time will come when crude will not be needed in larger proportions because of advancement in technology.
Federal government must advocate that every state and region in this country should produce one agricultural product in large quantity within its domain. We cannot be experiencing high cost of food items when we have fertile lands for farming.
The level of investment must be directed to the real farmers, while youths should be encouraged into farming by granting incentives and soft loans to aid mechanized farming. This will guarantee internal supply of food items, create job opportunities for the youths across the nation and subsequently lead to export of products.
Once there is food sufficiency, the life expectancy will be improved. Government must taking adequate steps to protect our growing population, this issue must be addressed," he said.