By Chris Ochayi & Chimaobi Nwaiwu
ABUJA—A former governor of Abia State, Dr. Orji Uzor Kalu, yesterday, reassured Nigerians, especially Southerners living in the 19 Northern states that there was no cause for alarm over the October 1st  quit notice issued to the Igbo by a Coalition of Northern Groups, CNG, saying efforts are being put in place to quash the notice.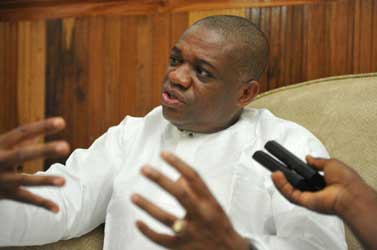 Dr. Kalu, who gave the assurance at an elaborate meeting with some members of the Coalition of Northern Groups, in Abuja said, he  had a very fruitful discussion with the leadership of the northern groups in order to review their position.
The leaders of the coalition who attended the meeting included the chairman, Arewa Youth Consultative Forum, Yerima Shetima, Abdulazeez Sulieman, Aminu  Adamu and Balarabe Rufai, who were representatives of other northern groups.
This came as  the leader of Biafra Nation Guard, BGN, Mr. Innocent Orji, who has been in prison custody since 2009 over an alleged role in the kidnap and killing of two Chinese working for Innoson Group of Companies, Nnewi,   was yesterday released from Onitsha Prisons with sixteen other members of his group.
No cause for alarm — Kalu
According to Kalu, "The discussion was very fruitful. You know the diversity of this country is the strength of the country. The demography of this country is very essential to what we are doing. People who think that any part of the country has nothing to contribute for its development are making a  mistake.
"Agriculture remains very crucial if this country wants to be serious. Agriculture can make more money for this country  than anything on earth. And next to agriculture would be tourism.
"Nigeria is  a very big country. We transverse between Sahara desert and Atlantic ocean. This is the only country that can proudly boast of having the two. Some people are asking God to give them one of the two. But we have the two, we have the Sahara desert and we have the Atlantic Ocean.
"So, I want to thank Yerima Shettima for agreeing to come out openly for this meeting. We have been talking for a very long time. Every day, I call him and we discuss this issue. And we are getting to a common ground. Arewa youths are making a serious consultation.
"When they say the Igbo, they talk about people in the north who are not northerners. You don't know who is Igbo, Urhobo or who is from Bayelsa state. All of them are Igbo as far as I am concerned. So, I want to assure the Southerners who are living in the northern part of Nigeria that we will continue to put our efforts, nothing will happen to them. We are going to move forward."
The chairman of Slot Group, while noting that the country is at a difficult situation, however, pleaded that this is the time all Nigerians should come together and make frantic effort s to salvage the country.
 We will review our position — Yerima
In his remarks, the leader of the group, and chairman of Arewa Youth Consultative Forum, Alhaji Yerima Shettima said they had a very fruitful discussion which will end the current impasse.
Yerima, who assured that the country will remain one Nigeria, added that, "We will work within the framework to ensure nobody holds the country to ransom. We have embarked on a lot of consultations to review our position on the  ultimatum."
According to him, "Probably, the public might think this is the first meeting we are having with Dr. Orji Ujor Kalu.  We have been talking on phone. Ever since this issue of ultimatum came up, he has been engaging us  until today that we agreed to honour his invitation and  speak to the public.
"His worries were basically on the issue of how to maintain the unity of this country in line with the present situation of things in the country. It is only those who are blind or ignorant that will say the unity of this country is not being threatened.
"It has been threatened but we have prominent Nigerians like him who have shown a lot of concern and worry over the situation. To us, we simply believe that Nigeria belongs to everybody and we want to believe strongly that we are all equal in this project.
"And we will not  in anyway accept anybody who wants to undermine the unity of this country. That was what  prompted our frustration when we issued the quit notice.   But events and time change a lot of things. And this is one of the reasons why today, you see us having this meeting.
"We have had meetings with leaders from our region-the likes of Sultan of Sokoto, Sa'ad Abubakar, Northern governors under the leadership of Kassim Shettima, the present Governor of Borno State and so many prominent Nigerians. All these   have engaged us on how  to  resolve this issue amicably.
"This is also one of such engagements to ensure that we discuss amicably and find a lasting solution to Nigeria's problems. We are proudly Nigerians and we want the unity of this country. Dr. Orji Kalu is one of those we have a lot of respect for, not only because he was brought up in the north or because he schooled in the north, but also his antecedents, actions and inactions clearly demonstrated he is someone who believes strongly in Nigeria."
 Court releases 17 Biafra agitators
Meantime, the released  leader of Biafra Nation Guard, Innocent Orji  consistently denied kidnapping or killing anybody, alleging  that he was roped into the case because of his insistence on the actualization of sovereign state of Biafra.
He was released by the Onitsha High Court presided over by Justice Ikeogu on the ground that he has  overstayed  ten years, the number of the years for the offence if he was  found guilty.
Mr. Orji 's counterparts, Sabastine Amadi, Amah Onu and Chukwuebuka Ikenwa were discharged and acquitted and were asked to go since they do not have any other pending case against them.
Others discharged by the  court but still have cases to answer at Awka, the state capital are Casmir Odakwe, Ojemba Anyanwu, Eni Kalu, Ndubuisi Okam, Ikechukwu Chikwem, Emmanuel Orji, Chukwuma Kalu, Chidiebere Ezekwem, Maduabuchi Asika, Uche Idikaigbo, Uchenna Nicholas, Peter Igbokwe and Ikechukwu Aghara.
Counsel  to Orji and others, Chief Chris Okolo had drawn the attention of the court to the suspects' overstay in prison custody since 2009 and appealed to the court to temper justice with mercy and  there was no objection to his plea.
Tthe prosecutor of the case was not in court but the court having seen the merit of his plea ordered for their release.
The BNG leader while speaking with newsmen after his release thanked God for his infinite mercy towards him and also thanked the Onitsha High Court Judge for how he allowed justice to prevail at last by granting him and others freedom.
He commended all the patriotic Biafrans who have contributed in one way or the other to facilitate his freedom and promised that all their effort will not be in vain as he will not betray the trust they have in him.