By Kelechukwu Iruoma
THE most prominent headache of start-ups is how to make customers believe in their services and offerings, which will lead to increased sales.
The most commonly solution proffered for this problem is for startups to present their services in the most engaging ways to the consumer. While this may not be rocket science, it is not also easy to come by at the early stage of a business life.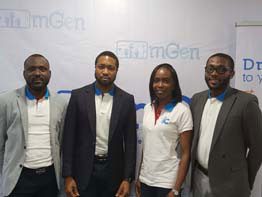 However, a Nigerian mobile tech company and value added services provider, iConcepts, has launched a simple cloud-based mobile marketing platform that enables businesses and organizations harness SMS messaging capabilities to increase sales, customer engagement and marketing return on investment.
The service, tagged mGen.ng, uses short codes and unique keywords to build opted-in audiences, collect customer feedback and send auto-responses to inbound messages.
Speaking while introducing the platform in Lagos, Chief Executive Officer of the company, Ugo Okoye, said mGen.ng aggregates data for processing through a robust dashboard generating detailed reports, graphs and profiled databases that are extremely valuable and targeted for any company."
He stated that with an mGen account, businesses can create campaigns, promotions, interactive surveys, polls, automated information services and customer care solutions, adding that some of its key features include zero-rated short codes allowing customers to participate for free, self-service tools to customize the user experience for each campaign or service, and API tools to enable integration with an existing management system.
Okoye further disclosed that; "mGen.ng is ideal for both public and private sector organizations for finance, manufacturing, retail, education, health, government, IT, media, transport, travel, religion and service industries."
Innovation and Business Partnerships Lead at iConcepts, Bolaji Akerele, stated that the platform would allow many companies create value through quality interactions they previously couldn't access, adding that it is very easy to set up an account at a very low price.