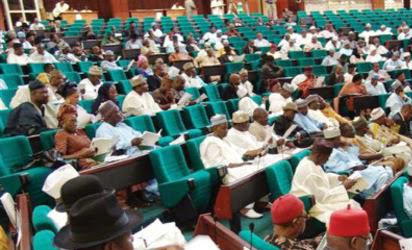 House of Representatives
The House of Representatives Committee on Diaspora on Monday told the Federal Government to intervene urgently in the alleged killing of five Nigerians in Ghana.
The Chairman of the Committee, Rep. Rita Orji, made the call at a news conference in Abuja.
The lawmaker, who did not provide the identities of the five Nigerians or the circumstances that led to their killing, said that the incident occurred in Sowutoum, Ghana on Aug. 17.
Orji expressed worry that issues that concerned Nigerians with nationals of their host countries were often left to degenerate to the point of claiming lives.
The committee chairman remarked that such incidents were frequent because the laws binding African countries together had often been segregated when Nigerians were involved.
She urged the Federal Government to insist on full autopsy report on any Nigerian killed extra-judicially outside the country to check unsubstantiated frequent claims of drug involvement by the Nigerians.
Orji appealed for proper funding of the "Stay Home and Build Project," initiated with the Nigerians in Diaspora Organisations.
She noted that the project was meant to help unemployed Nigerians in the Diaspora to learn trades and return home to establish their businesses.
The lawmaker advised unemployed Nigerians in the Diaspora to return home, instead of being subjected to inhumane treatments.
On Aug. 16, a Nigerian resident in South Africa, Mr Uchenna Elor, was similarly killed by the South African police, bringing the number of Nigerians killed in that country within the past two years to 117.
Many Nigerians in the Diaspora have often been at the receiving end of harsh treatments by their host communities, leading to the deaths of some of the Nigerians.