By Kingsley Adegboye
AS Nigeria's housing deficit keeps increasing by the day, Pertinence Ltd, developers and owners of ABC Gardens and ABC VIP Gardens located across the country, has unveiled a housing project called ABC Gardens country home as part of the solution to the nation's housing problem.
The country home project which comprises over 500 units of one-bedroom apartment, is coming as a site and service scheme but the developers will assist subscribers to build their housing units by providing the funding which is put at N2.9 million, and home owners are expected to pay for the houses in three years without initial deposit. The payment is meant to be equally spread across 36 months. The sprawling housing project which is located in Itori in Ewekoro area of Ogun state, is specifically targeting those who are just starting life on their own as bachelors or newly married couples as well as low income earners in the society.
Speaking to Vanguard Homes & Property on the project fashioned along country homes in the United Kingdom, at its unveiling, weekend, Mr. Sunday Olorunsheyi, a director at Pertinence Ltd, said the idea behind the project is to make housing provision affordable and encourage people particularly those who are beginning life to have houses of their own early in life.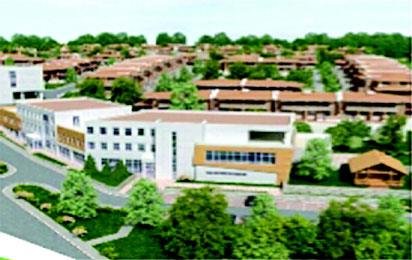 "The idea is to make housing affordable and encourage people to own houses early in life. We tell people your dream home or house does not have to be your first house. May be your dream house is  in Lekki, Ikoyi, Ikeja, Victoria Island or wherever, but if you can't afford that dream house for now, start somewhere. And this is exactly what we are trying to do with this project. With N2.9 million, you can get a house and pay for three years. I think this is affordable enough. We have been travelling outside the country for a number of years now. But our last trip to UK was phenomenon in the fact that we visited a lot of real estate firms there, and we tried to under study them to know how they design houses in their projects over there to serve different categories of people.
"We discovered that there are people who don't actually need more than one-bedroom apartment. You don't have to struggle to build a three-bedroom apartment that will take longer time to complete with higher cost. So, we decided as observed in UK, that we can start with one-bedroom apartment for those trying to begin life and low income earners in the society. The idea is that if they start with one-bedroom apartment, as they become larger families, they can decide to move into bigger apartments.
"The one-bedroom apartment consists of a bed room, sitting room, kitchen and toilet big enough to accommodate those just starting life family. Imagine people just rounding off their National Youth Service Corps year. By second year, they can start saving towards having a one-bedroom apartment. And you can be sure that five years after graduation, you can be a proud owner of a house with our arrangement.
"Payment is made so easy. We are not asking people to make down payment of 20 to 30 per cent like mortgage people do. What we are telling people is that, look at the total sum, spread it into 36 months and pay in instalments. For us, we will be ahead of our subscribers to ensure that the houses are ready before that three years.
Low income earners
"Infact, this project which is targeted at low income earners is located at Itori, Ewekoro along Lagos/Abeokuta axis, is located there because Lagos is already congested. Before deciding to locate the project there, we discovered that people residing in the area are actually working in Lagos. We also discovered that most people who live there and work in Lagos, live in rented apartments. So, we are saying that it is better for people to live in their own houses rather than to live in rented houses", Olorunsheyi stated.
Also speaking on the project, Mr. Wisdom Ezekiel, a co-director, said infrastructure which is a basic thing to be provided in housing estates, will be provided to standard.
According to him, such infrastructure will include drainage system, motorable road network, security, recreational facilities such as swimming pool, shopping mall, market, football pitch, school and others. Ezekiel added that facility manager will be employed to ensure adequate maintenance of the infrastructure in the residential estate.