Abuja – Nursing mother living with HIV can exclusively breast feed their but with the help of anti-retroviral drug, an expert has said.
Prof. Alash'le Abimiku, Executive Director, International Research Centre for Excellence, Institute of Human Virology, Nigeria (IHVN) said this on Thursday with the News Agency of Nigeria in Abuja.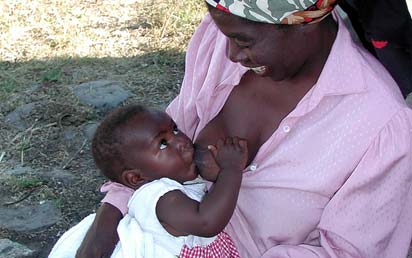 She explained that transmitting the virus from mother to child during delivery was possible, if adequate care was not taken.
Abimiku, who said that anti-retroviral drug was the only solution to suppress the virus stressed that mothers with HIV must adhere to prescriptions in breastfeeding their babies exclusively.
"It has been proved that a mother can transmit HIV to her child, even during pregnancy, child birth or the period of breastfeeding, if she is not given anything to prevent transmission.
"She is placed on highly active anti-retroviral drug which is able to bring down the number of virus in the blood and helps transmission rate fall drastically.
"The child is also placed on prophylaxis for six weeks, from the day of delivery and this serves as anti-retroviral for the new born,'' she said.
''The comfort that comes with breast feeding when we look at the healthy component that makes breast milk the best possible start we can give our young ones.
"So, every child should be provided with breast milk because every child has a right to good nutrition and good health.
"Every mother has a responsibility to breastfeed her child.
"So, it is a matter of right and we believe that breastfeeding is another way of ensuring that the future generation is not only healthy but is also prepared to meet the challenges that come with modern living.''
She said that protein; carbohydrates, fat, minerals, water and vitamins were some of the nutritional components in breast milk that enhanced healthy growth in children.
The expert said breast milk also contained anti-bodies that protected the body from infections.
"The advantage of breast feeding is not limited to the child but also the mother as it usually creates the bond between the mother and the child.
"Breastfeeding also helps the mother to regain her normal shape after child birth.
"During pregnancy, she is likely to add some weight but when she is breastfeeding, that weight is converted to energy for the child. (NAN)