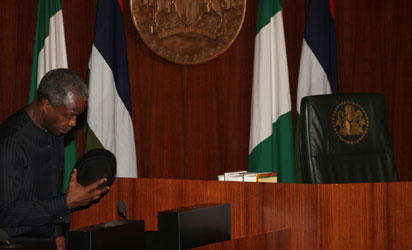 Vice President Yemi Osinbajo presiding over the weekly meeting of the Federal Executive Council at the Aso Chambers, State House, Abuja. Photo by Abayomi Adeshida 26/04/2017
Chief Angus Uzoamaka, an Abuja-based insurance broker, has urged the Federal Government to consider tax relief for industries operating in Nigeria in order to boost economic development.
Uzoamaka told the Newsmen on Monday in Abuja that the measure would go a long way to encourage consumption and exportation of made in Nigeria products.
He said that such policy would go a long way to create employment and wealth for Nigerians.
"We cannot meet the target of self-sufficiency and dependence without giving tax holidays to industries to spur local production of goods.
"If industries are granted such privileges, it will encourage local and foreign investors to invest and establish more industries in Nigerian,'' Uzoamaka said.
The broker said that it was ideal in this period of recession for government at all levels to provide enabling environment for industries to operate.
He expressed optimism that such "economic technique'' would usher in food and job securities to Nigerians.
Uzoamaka said that countries like China did same in the past, even up till now, hence many industries relocated from America and Europe to China.
According to him, tax exemption for industries is the roadmap to a virile and creative economy, capable of sustaining Nigerian population.