By Grace Udofia
Abuja—Special Adviser to the President on Niger Delta and Coordinator of the Presidential Amnesty Programme, PAP, Brig- Gen. Paul Boroh (retd), yesterday, said plans were underway to engage Niger Delta youths in pipeline surveillance in the region.
He said the plan was part of measures to reduce crime in the oil rich region as well as get their youths gainfully employed.
Boroh, who addressed newsmen on the outcome of their meeting with the Pan-Niger Delta Forum, PANDEF, in Abuja, said the government had evolved strategies that will help sustain peace and revamp the economy.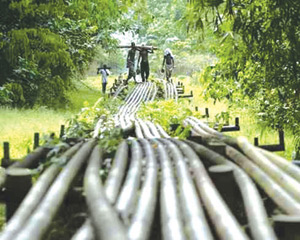 He called on the people of the region to be patient with the Federal Government as the development of the region cannot be tackled using a fire brigade approach considering the peculiarity of the terrain.
According to him, "the Federal Government is spending so much money on intervention in the region. So far, about 48 billion both in pounds and dollars had gone into  project at different levels of completion just to maintain peace and order.
"One of our strategies is the principle of inclusiveness, which will be based on community security methods where each community will be responsible for the security of their pipelines.
"This is a workable strategy that will employ about 10,000 youths across the oil producing states that will now be in charge of keeping the pipelines in their communities safe.
"I call on the people of the region to be patient and allow the process come to a holistic overview to solve unemployment problems in the region."
On the resolution of the meeting, Boroh explained that the agitation by PANDEF on the Maritime University, Okerenkoko and development of the region was as a result of miss-information.
He added that PANDEF had been miss-informed about the progress of the Maritime University, Okerenkoko, allaying their fear that the government will abandon the project.