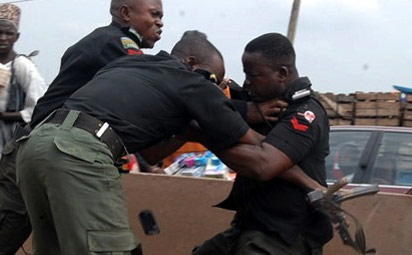 File: Policemen allegedly fighting over largesse
By Dr. Ugoji Egbujo
Every Inspector General of police comes with righteous anger. He would make public a list of traditional practices he would not condone. You would think he was imported from China.  Policemen cannot be  shared out to rich men like 'akara,' he would fume. Then he would rattle things a bit. Then they will settle back in, into their places. The police would continue, like the police, till the next Inspector General  comes.
They all know we don't have enough policemen. But they also know we have enough jobless qualified youths to produce a robust police force. The government knows too. We know why violent crimes are proliferating like mushrooms in rainy season.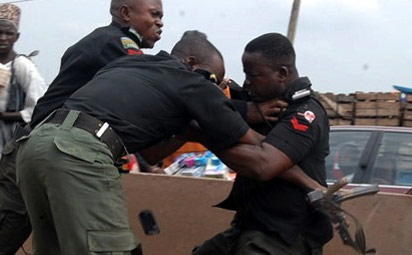 We know police presence is too scanty, too feeble. But we won't recruit massively and kill two large birds with one small stone. We won't. We  will sit and daydream, and wish ourselves all good things. We would  want to draw foreign tourists like Morocco.   We want foreign investors to come in droves.  We wish Lagos were Dubai. Yet for an evening stroll, we may have to saddle our white guest with armed policemen.
But our problem isn't even our skinny police force. It's our sense of priority. We prioritize frivolity, folly. Those who wouldn't spend money and build a police literally pocket all the policemen and allocate any leftovers to their kins, cronies and the rich. An entourage of policemen is status symbol. Pastors use them  to enhance flamboyance. It will be rude, blasphemous, to say that their presence around  pastors is more than ornamental. Because the spiritual controls the physical.
I have a friend who is a private citizen. When he was mad, he had over 16 policemen attached to him. He used to tell of the ease with which he transformed into an 'institution.'He  was asked to write some letter about some threat to his life.
He attached 'good faith' to the good letter and his request was promptly approved. Then he paid a mandatory 'sign on' fee to a police boss.  He understood the terms. He paid N30,000  for each policeman every month. He frequently greased the palms of the mobile commander and sent something to the headquarters from time to time.
His mother in the village got two policemen. They followed her to the local market and to church. He said  that without that intervention, she would have been kidnapped. Everyone, he said , had  heard that he had finally 'arrived.'  He kept four policemen in his house in Lekki. They sometimes  helped with the  electric generator. They  followed his wife to visit her friends. They helped his wife's friends to buy fuel, when the queues were very long. His office had two policemen. They watched it, day and night. They helped with paying NEPA bills too.
He hopped around with eight policemen. And he strode the town in the manner of VIPs.  He moved in a convoy of six cars, head lamps on, sirens blaring. All cars were black. Sometimes the  number plates wore black,  often they wore SPY.
Two Toyota Hilux vans, front and rear. Each had three well kitted,bulky mobile policemen replete with the requisite paraphernalia—guns and (koboko) horsewhips.  His two black G wagon jeeps always sat in the middle. His escorts jarred their teeth menacingly at clumsy and bemused road users. His victims cringed and ducked. They included  senior government officials . He told me it was intoxicating. He once thought about flying a flag. He made a flag for his company. His policemen told him it was not a known offence.
He left the idea for the future. But he converted one of the policemen, he became his chauffeur. The policeman-chauffeur ,  he  said, confessed he got kicks looking at people struggling to jump into buses while he fiddled with the steering of a gleaming G wagon. He bought him suits and dark sunglasses. He liked the appearance, the makeover. He kept away his uniform. Then another policeman  became his personal assistant and carried his bag.  Sometimes he answered his phones. Everyone called him chairman.
Then,  his business slumped. I paid him a condolence visit. He told me in confidence that his business was  on a life support by a bank that didn't know the extent of the cancer. I listened to a load of regrets. I hissed the hisses with him.
He saw me off to the gate. I noticed, the policemen were still everywhere. I gave him a quizzical look. He returned a wan smile. I realized they had to be there. They were now an important façade. One day, he woke up and couldn't take more. He  absconded. He ran, to live another day.
We know policemen routinely extort motorists. They have to augment their poor salaries. But when they are on the roads, they keep away some rodents. That's why we want the banks and pastors,and politicians,to  use armed private security guards. And leave policemen for us.  They can put on them them uniforms of West African Frontier Force, whatever they like.  They could  even be more menacing.
A society infested with roaches like Badoo cultists cannot let a few pocket all the policemen. If only private security men could man the roads. We could have let them have the police. But we can let a hundred private security guards follow every megalomaniac businessmen around. We wont complain they clog the roads. We know they cost much more than mobile policemen.  We can grant them tax waivers as incentive.
They say they are the major targets of violent criminals. And the police, it seems, give them priority. Because  if it involves a politician or rich businessman it's labeled high profile crime. It draws unwanted attention. No senior police officer wants his career sullied.
They know the  robberies at Mile two and Lagos Ibadan expressway aren't the sophisticated variety.   The merest of  predictable police presence will keep them away. But where are the policemen? They are with the politicians and their wives. When the Inspector General retires he will have a party.  His friends will gather. Their legion of  police escorts will lend pomp and ceremony to the event. The new Inspector General will be in their midst.
Looting happens everywhere.  The police force is a national resource and it cannot be spared. But this is worse than regular corruption and theft. Many lives are lost. We must recognize a crime against humanity when we see one.