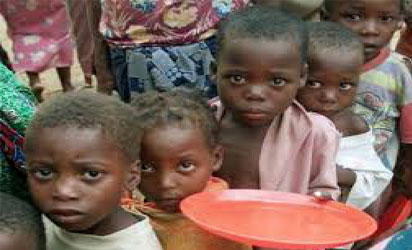 File: Children affected by poverty
By Sola Ogundipe
"We are hungry". This is  currently the commonest expression in the northeastern part of Nigeria.
Amongst the displaced are women and children from Bama, a severely conflict- affected town and hard to reach area in Borno state. Most have lost their husbands and children. They have nothing to eat and are often forced to beg on the street.
People are very hungry in  Lambu settlement, old Maiduguri. In the heat of the insurgency orchestrated by Boko Haram, several families fled with their families from  Marte, a town hundreds of kilometers away to the settlement.  Now they are very hungry and urgently need food in order not to starve to death.
No opportunity to farm
One of the inhabitatnts, Mohammad, and his family have been displaced for two years. There is land but no opportunity to farm.  As a farmer Mohammed could grow food, but he has to rely on assistance.
Ibrahim and his wife came to Maiduguri three years ago, but would go back if it was safe to do so. There isn't enough to feed him and his family.
Alone and with little or nothing to eat, Kaltima has been in  Maiduguri for about two months. She fled there with her six children after her husband was killed by Boko Haram.
Kaltima knits caps to earn some money, but it is not enough. She and her six children live on one meal a day. Often there are days there is nothing to eat.
Abubakr, who originally came from Benisheikh, fled to Maiduguri four years ago with his family. He used to be a driver, driving trucks with commercial goods to cities in northeast Nigeria. Last year, Abubakr's family received livelihood assistance from Norwegian Refugee Council, NRC. He received training on how to grow vegetables, and maintain a garden.
"NRC's assistance changed my life", he says. "I learned to grow crops, and it is a success. I now grow onions, sweet potatoes, okra, maize and pepper. I sell in the market and my family uses a part to cook meals. We have some income, and less worries about food. We are fortunate," Abubakr told the NRC,
Food security is one of the main challenges in Northeast Nigeria at present. Many families do not have the economic means to purchase food, or food is less available due to lack of farming and markets.
Intervention: The Norwegian Refugee Council, NRC, Food Security and Livelihoods programme provides cash for food assistance, in addition to long term impact interventions such as vegetable crop production activities (providing seeds for gardening) and small business training.
The worsening food crisis in the northeast of Nigeria, is likely to  further deteriorate before the end of August this year, moving the region closer to famine.
Food security experts have predicted a rise in the number of people facing crisis, emergency and famine conditions from 4.7 million to 5.2 million in the affected region including at least 50,000 people that would be affected by famine-like conditions. by the end of August.
According to data  from the latest UN Food and Agriculture Organisation Global Early Warning report, the potential impact of the ongoing violence has restricted livelihood activities and caused the disruption of  normal supply to markets in the Lake Chad Basin, thus significantly affecting the availability and access to food.
From the report, the influx and movement of IDPs, rising food prices and localised conflict between pastoralists and farmers are likely to continue driving food insecurity.
The ongoing rainy season until the end of October is expected to exacerbate humanitarian access already greatly restricted in the conflict affected areas.
The dire humanitarian situation and a risk of famine exist in the northeast Nigeria and the Lake Chad Basin region, including Borno, Adamawa and Yobe states.
About 3.2 million people are in crisis food situation  in the three northeastern states, 1.4 million people in emergency and 44,000 people in famine. In addition, 450,000 children are at risk of Severe Acute Malnutrition, SAM, of which over 314,500 will receive treatment in 2017.
Largest humanitarian crisis: The report notes that although Nigeria has registered an above-average cereal harvest at national level in 2016, the continued conflict has resulted in widespread disruption in agricultural and marketing activities.
Currently one of the largest humanitarian crises in the world, the Lake Chad Basin crisis has pushed 6.9 million people to become severely food insecure and caused the displacement of millions.
But due to a lack of access to communities because of insecurity, the exact number of people dying of hunger is impossible to confirm.
Graphic picture
Giving a graphic picture of the situation, Jackie Okao, the NRC's Protection and Advocacy Adviser, decried the prevailing food crisis situation in the northeast.
"Looking at the issue broadly, there are 2.7million peraons currently affected in the northeast and the number is expected to go up to 5.4 million by the end of August.
"People have not been able to farm due to insecurity, and lack of access to the famlands, and also because the people are constrained  to remain in the urban areas, which are now congested."
Okao said although many of those that fled in the heat of the Boko Haram  attacks have have started returning, lack of access to farm implements is not helping matters. The involvement of the NRCin distributing of food vouchers is helping out, but cannot reach all those affected.
Highlighting the constraints of the response programmes, Okao noted that there is a huge gap in the  financial support for 2017.
"We need to increase overall funding and reduce constrains to access, but due to ongoing military actions, we do not know the number of people trapped in the hard-to-reach areas
"We have roads that are 100 per cent cut off, we cannot access those areas except through helicopters and with military escort."
Short term solution:  According to Okao: "International NGOs are here on request from the government and  we are all stakeholders to support those in need. However, in terms of making things better, what can be done in the short term is to address the funding gap.
"For the humanitarian response plan, we only have 28 per cent of the food security budget funding, we need to address the gap of 72 per cent. The Federal government of Nigeria  needs to come in and see how to ensure that humanitarian agencies can reach everyone in need including those trapped in the inacessible areas."
Further, Okao said because the  rainy season is coming to an end, the supply of seedlings and crops may not immediately address the situation on ground.
"But  we can look at how to enage in ventures like backyard gardens for quick crops  which would enable quick-to-produce food for the IDPs and those in need.
Country Director of the NRC in Nigeria, Cheick Ba, said:  "Armed conflict and violence are driving this food crisis. Insecurity is preventing people from farming, and restricting access to local markets. "This is depleting grain stocks and pushing food prices beyond people's reach, with devastating consequences for affected families, including 450,000 acutely malnourished children."
According to the NRC, the May to August lean season is well underway in Nigeria, a time when food stocks are traditionally low and families rely on stockpiled supplies.
With many farmers unable to cultivate their land for up to three years already, families have little reserves to draw from.
Further, Ba remarked: "We were forced to reduce the food basket we provide to families this month, to make up for the increased price of rice beans and millet. Innocent families are bearing the brunt of this brutal conflict, even after they have escaped horrific violence."
Noting that "this is a man-made conflict that needs a man-made solution", Ba avowed that providing people with food is only a short term solution.  "The crisis will only end when the conflict has been resolved and communities can safely return to their land to rebuild their lives."
Currently the food security and agriculture cluster is 76 percent underfunded.
An estimated 8.5 million people need humanitarian assistance in Nigeria even as about two million people are suffering from acute malnutrition, including 450,000 children.
For the eighth consecutive year, violence has led to a total of over 1.9 million people being displaced from their homes in the northeast Nigeria.
Borno State, the epicentre of the crisis, hosts 80 per cent of the displaced people, over half of whom are children.