BY CHARLES KUMOLU
Founder of Ojudu Mass Movement, OMM, Mr. Tunji David in this interview says the Senior Special Assistant to the President on Political Matters, Senator Babafemi Ojudu is the best man to succeed Ekiti State governor, Mr. Ayo Fayose in 2018. While explaining his reasons, Tunji   spoke on other issues.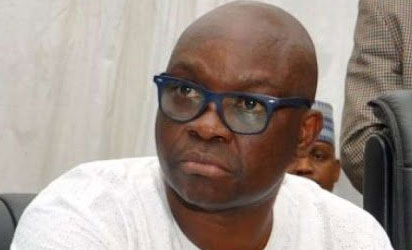 At what point did you decide to establish the Babafemi Ojudu Democratic Movement and what do you seek to achieve?
What Ekiti State has become today in the hands of the present government is a known fact. This movement was borne out of my passion for my state and my passion cannot be divorced from the person who can take us out of this precarious state.
We are both a pressure and interventionist group. Ojudu Mass Movement (OMM) is a world movement of Ekiti people to support the emergence and candidature of Senator Babafemi Ojudu in the 2018 Ekiti governorship election.
As at today, Senator Babafemi Ojudu is the most qualified to occupy the seat at Oke-Ayoba in Ado-Ekiti. He is a man of integrity, a true son of Ekiti, a progressive to the core, an Awoist, a man of great ideology, a man who has the interest and well-being of his people at heart, a mobilizer, a strategist, an experienced private and public servant and an astute politician. This is a man who has sacrificed a lot for the interest of his state.
He is the fear-factor in Ekiti state politics. OMM is predominantly a youth movement which is mobilizing youths of Ekiti, home and abroad on the importance of making sure that Babafemi Ojudu is adopted or emerges as the person to bring the state out of the present dilemma it has found itself. This movement is spearheaded me and a host of progressive youthful minds like Engineer Femi Johnson, Olawale Omotoyinbo to mention a few of other young Ekiti thinkers within and outside Nigeria.
A lot of people see Ojudu from the point of view of a conservative and journalist who strayed into politics. Do you think he is more than that?
I would rather call him a strategist and not a conservative. On whether he strayed into politics? No! He was one of those, who fought for the return of democracy in Nigeria with respected people like Chief Femi Falana. He was arrested, tortured and incarcerated for his belief in returning power to a democratically elected President even after Chief MKO Abiola was killed remained active. Senator Ojudu as a political activist, journalist, and administrator is the man, who has the right prescription and dose to be administered to Ekiti State in the situation it has found itself today.
As the   Special Adviser to the President on Political Matters, his experience and connections cut across party lines. He is a bridge builder, he may not be the kind of man that shares money indiscriminately but he will teach you how to fish. I would rather be taught how to fish so I can make more and also teach other people than to queue on the streets of Ekiti and be handed crumbs the way it is being done in the state today. He is a man, who I am privileged to have been with and I know what he is capable of doing. Senator Ojudu will never promise you what he won't do, even his enemies can attest to this.
What are his chances of becoming the Governor of Ekiti State with the presence of other heavy weights like ex-Governor Segun Oni and Mr. Kayode Fayemi who are reported to be interested in the race?
Asking this question is like asking a student whose school fees have been paid and has written exams and passed if he is sure of being promoted to the next class.   Senator Babafemi Ojudu has paid his dues both in Ekiti State and Nigerian politics. He is the only man, who has defeated the present governor of Ekiti State in an elective position.
Engineer Segun Oni-a wonderful man and Dr. Fayemi have both shown to the Ekiti people what they can offer and you know you don't have a second chance to make a first impression. Ekiti needs radical and quick changes and the injection of new ideas to its present economic downturn, high level of poverty, and dehumanizing way of living they've been subjected to. That is what Senator Babafemi Ojudu represents.
On leadership qualities
His leadership qualities cannot be overemphasized. He is not a man who practices politics of bitterness.
He is a man, whose focal point is to make Ekiti State return to its true nature as a place where people respect elders and where there is the dignity of labour. Ekiti State is agrarian in nature, with Ojudu in power, Ekiti State can be self-sufficient in yam, rice, and corn production. The state can even feed the whole of South-West within the next four to five years. This is where we are taking Ekiti State to with an excellent mind like Ojudu
Why do you think the state needs political deliverance?
The state does not only need deliverance, the state needs rescue and restoration. Honestly, Ekiti State has taken the back seat in the past three years. I am an Ekiti man and I know what my people are saying. Salaries are not being paid for months and a governor is building a bridge that leads to nowhere. What is the economic benefit of a bridge that costs billions of naira to the people of Ekiti State? Our future and that of our children are being mortgaged. There must be salvation.