By Luminous Jannamike
ABUJA – There was a mild drama at a Federal Capital Territory (FCT) High Court sitting in Maitama, when a lawyer, Ayo Ogundele, who purportedly represented the recently registered Advanced Peoples' Democratic Alliance (APDA) in court, was disowned by the Party's Deputy National Legal Adviser, Ziggy Kazaye-Usman.
The Mainasara Illo-led new National Working Committee (NWC) in suit number CV/2691/2017 had sought for a court order restraining the duo of Mohammed Shittu and Emeka Okengwu from representing themselves as Interim National Chairman and Interim National Secretary of the Party respectively..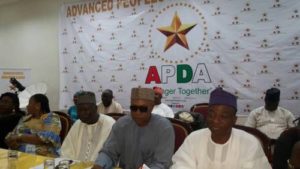 At the commencement of hearing on the suit, Kazaye-Usman announced his appearance and informed the court that in his capacity as Legal Adviser to the Party and as a matter of the constitution and other substantive laws of the Party, he did not ask Ogundele file any application on behalf of the APDA.
He also stressed that he ought to be informed of the matter before it was taken to court, and also authorize whoever that will represent the Party in the suit.
"My Lord, it is unfortunate that I was just informed last week that we are in court. I was not aware of this matter as the Deputy National Legal Adviser of the APDA until when the suit has been filed. The suit has to emanate from my office. But as it stands today, this cannot be said to be emanating from the Party
"I have done what is needful. I wrote and signed a letter to counsel (Ogundele) asking him to disengage himself from this matter.
"I also wish to withdraw this matter because I have to authorize who will represent the Party and when to go to court. However, in this case, I was sidelined," he said.
On his part, Ogundele told the court that he would not disengage himself from the case. According to him, Kazaye-Usman was not the one who briefed him and asked him to file this matter.
"My Lord, I cannot pull out of this case just like that, because I don't take instructions from him. What he is trying to do is to frustrate and hamstrung this matter," he said.
In the face of the confusion and arguments, the Presiding Judge, Justice Yusuf Halilu, aborted proceedings and directed that both Kazaye-Usman and Ogundele to go home, put heads together and resolve these issues before appearing in court on the next adjourned date.
He however stated emphatically that Kazaye-Usman did not follow proper court procedure for changing or disproving a counsel.
Meanwhile, Justice Halilu assured that when hearing on the suit resumes on the 5th of September, all the pending applications filed and yet-to-be filed application will be taken.