Wife of the Acting President, Mrs. Dolapo Osinbajo, was in Owerri penultimate Friday. It was at the instance of ElFreeda Foundation, a non-governmental organisation (NGO) run by Uloma Rochas Nwosu, daughter of Imo State Governor Rochas Okorocha. It was undoubtedly an A-class event even though organised as a charity.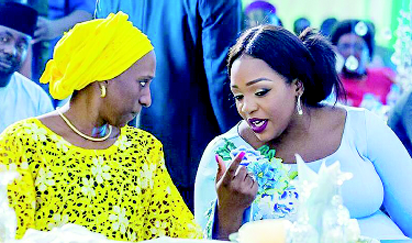 Mrs Osinbajo, in her remarks, said that Nigeria needs love now more than ever, and therefore asked Nigerians to show love for one another.
She said, "Our nation needs love now more than anything else. I encourage the people of Imo to show example of this love which I see in them to the rest of the country. This is not my first time in Imo State and each time I come I see peace everywhere. This state is like a house full of many people and I say to this house, peace be upon it.
"Love never fails, I have a request that is deeply rooted in the bible, love your neighbour as you love yourself. It is a selfish request because it entails loving everybody irrespective of religion or tribe. And this is what Nigerians should be doing now".
In opening the ELFREEDA FOUNDATION, Mrs. Osibanjo said,"I wish to congratulate EL-Freeda Foundation for this wonderful event. I wish also to congratulate Mrs. Uloma & Uche Nwosu for this initiative. Also, I congratulate Imo State for what we are doing here today.
"It is a great joy to be in this beautiful hall and all the great talents that are here. I could only imagine that El-Freeda Foundation was a dream, but now, it has become a reality. The hand of the Lord is very strong to make dreams come true.
"I am not surprised what I see today about El-Freeda Foundation and all I can whisper is I'm so proud of you my junior Sister and daughter, Uloma".
Governor Rochas Okorocha, in his speech at the event, said the nation is marching towards achieving greatness, with all the challenges confronting her and described the wife of the Acting President as a mother whose love knows no bounds.
He continued,"Just recently, the First Ladies of Nigeria were gathered in Imo State including the First lady of Nigeria, Hajia Aisha Buhari to attend my wife's August Meeting. Today again, the wife of the Acting President of the Federal Republic of Nigeria, Mrs. Dolapo Osibanjo is here, we are really grateful.
"Over the years of my struggles in life, I have not so much been at home or stayed with my children for long, but we have always been there to impart the necessary discipline in our children. Today, Uloma, you have made us proud".
In her speech, the Founder/Chief Executive Officer of ELFREEDA FOUNDATION, Mrs. Uloma Nwosu, said the foundation is to help the less-privileged, stating that the Foundation is not the dramatization of wealth but the dramatization of concern for the widows, orphans, disabled and others in the society.
The Governor's wife, Mrs Nneoma Rochas, and the husband of the celebrant, Chief Uche Nwosu, expressed gratitude to the Acting President's wife for coming to perform the opening ceremony.
Earlier, Uloma had in a guided tour provided insight into the activities of the foundation and expressed the wish that the objective for setting up the NGO would be realised in a very short time.
According to the CEO of the group, ElFreeda Foundation consists of a shelter, resource  centre, food bank and thrift store targeted at providing succour for abandoned and homeless women and children.
Already, the foundation has secured a 100 bed temporary facility where homeless women and children are welcomed to and cared for. Every bedding facility here constitutes a mattress, pillow, blanket, bed sheet and power supply is available as well as toilets and bathroom facilities.
Homeless women and children can stay in the facility for the night or for a maximum of 30 days. They will be provided with a bed and a meal a day. The shelter is open daily from the hours of 6:00pm and closed at 9:00am.
The Resource center on the other hand is where we provide counseling, guidance, and 1-on-1 help to those in need. "With our follow-up program, we provide continued support to ensure that homeless women and children build stable and independent lives as they get reintegrated in the society", she explained.
On the Food Bank, Mrs Nwosu added that it is the arm of the foundation that ensures that homeless   "women and children in Our Shelter have a meal a day", while stating that. "Donations from individuals, partners and organizations are welcomed".
But she welcomed members of the   public to partake in the activities of   the Thrift Store which provides clothing for homeless women and children in need and also supports the foundation's funding. "Donations from individuals, partners and organizations will be retailed at minimal prices to the public. It is one way the community can support the Elfreeda Foundation and we are giving a fair value in return", she concluded.