By Egufe Yafugborhi
OGHARA – FORMER Ethiope West council chairman of the Peoples Democratic Party, PDP, Princewill Ejogharado, says Sen. Ifeanyi Okowa's "dismal performance" as governor has significantly helped the All Progressives Congress, APC, chances at seizing power in Delta state come 2019.
Ejogharado, immediate past chairman, Delta State House of Assembly Service Commission, who came to this conclusion in Oghara, Ethiope West headquarters and home of Chief James Ibori, also noted that the "increasing unpopularity" of the PDP has made it lost its exclusive status as sole party in Ibori's locality.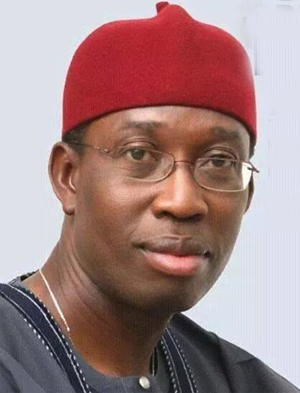 Welcoming over 200 non indigenes among Afenifere, Arewa and Ndigbo community in Oghara into the APC, Ejogharado listed Okowa's poor service delivery to the people, mean regard for Ibori as the soul of Delta PDP, ill-treatment of civil servants and perceived cultist appealed the PDP among other weaknesses that will end PDP rule in Delta in 2019.
He said, "Given the pivotal role Oghara plays in Delta politics as made possible by Ibori who gave birth to Delta PDP and affected lives through his leadership, PDP had always enjoyed Oghara support  as the sole party in the locality following the mobilization of our people through then Concerned Deltans for Ibori, CDI."
"We are all aware Oghara gave the highest votes to PDP even in the last election. Now that things are no more going in the same direction, the liberalization should start from Oghara. So we have liberalised from sole party in Oghara. There is evidently more than one party in Ibori's home now."
On the conflict of his low rating of the Okowa's stewardship against Ibori's recent endorsement of the governor for 2019, Ejogharado said,
"Don't be deceived by such dramas. We have been in the system. I know what is happening. I can tell you that even political appointees are complaining.
"Some of the cheerleaders who are just being given hope of tomorrow unknown are the ones telling the lie that all is well but when you engage them quietly they tell you this is the worst government the state has ever had since inception of this democracy. I don't want to call names.
"Whether you like it or not, the civil servant has a huge role to play in every elections. I can say that more than 90% of civil servants in this state are not happy with Okowa. Delta state remains the second richest state in the Niger Delta after Akwa Ibom, but there is nothing to show.
On the cultist appeal of the party, he said, "The PDP we have known is run like a cult. The same clique of the James Managers, Amoris, Nwabuishis and the rest who were fortunate to be made foundation executives of Delta PDP at Palm Groove Hotels, Warri in 1998 still hold the party by the jugulars till today. They have not let go.
"In my local chapter, you must belong to certain group of persons. You must accept to do gossips, go there and agree to destroy your fellow man for you to be appointed. No matter how much you put in, whatever returns you get come back through same cult like source. If you are independent minded, all you put is just waisted."