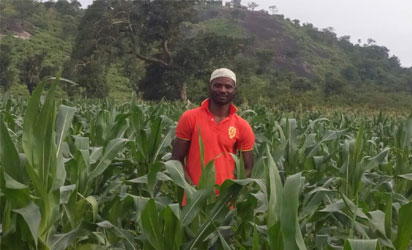 Mokidi in his farm
Lagos – Dangote Group and two leading African agricultural organisations — GrowAfrica and Nigeria Agribusiness Group — have signed a Memorandum of Understanding (MoU) in a bid to boost private sector's investment in agriculture.
The MoU was signed during the GlowAfrica and NABG Private Sector Consultative Meeting held in Lekki, Lagos.
Mr Sani Dangote, the Vice-President of Dangote Group, signed on behalf of the company, while Mr William Asiko, Chief Executive Officer, signed for GrowAfrica. Mr Emmanuel Ijewere, the Vice President, NABG, also signed the MoU on Friday.
Dangote expressed optimism that the partnership would pave way for more private companies' participation both foreign and local to improve the agricultural value chain in the country.
He said the private sector has the capacity to promote growth in agriculture with the Federal Government create the enabling environment.
Asiko of GrowAfrica said that he was excited with the development, describing it as a landmark achievement that was capable of facilitating agricultural development in Nigeria and Africa.
He noted that the partnership would provide a platform for agricultural bodies to work together and exploit opportunities within the agricultural value chain.
"Between 2011 and 2016, GrowAfrica has been able to mobilise over 200 companies from global and domestic companies in Africa to pledge nearly 10 billion dollars worth of investments in agriculture.
"These were pledges made by these companies to invest in agriculture with commitment from government on agreements with farmers and civil society and many others in the value chain," he said.
"We are launching this partnership to transform the economy by engaging different actors in the value chain to evolve business scale of investments."
On his part, Ijewere said one of the effective ways of ensuring the success of the partnership was to involve the grassroots in developing agricultural policies.
"This will create a relationship that builds from the ground to the top, thereby carrying the farmers along in decision making."
Meanwhile, Mrs Gloria Akobundu, the CEO of the New Partnership for Africa's Development (NEPAD), lauded the partnership, saying it will help to attract more youths to agriculture.
Akobundu, who was represented by the Director of Programmes Development and Implementation in NEPAD, Mr Folayan Ayodele, said following the depletion of the number of farmers because of age, there was need to encourage youths to return to the farms.
"It will help to stem the rural-urban drift and the private sector can play a significant role in making agriculture more attractive by helping youths to see agriculture as a business for wealth creation and empowerment, " she said. (NAN)